It is a half-day excursion that allows you to reach the country's newest National Park and the only one that protects a coastal environment of enormous richness in flora and fauna.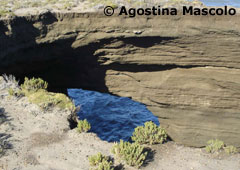 Take National Route 3 to the south and approximately 40 km. You will find the entrance to the Estancia Monte León, important cattle establishment in the area. There is a sign indicating the entrance, although you have to pay attention to not pass by.
In 2001, the Fundación Vida Silvestre Argentina bought the estancia Monte León to offer it in 2002 to the National Parks Administration. In 2004, the creation of the Monte León National Park, the first Continental Marine Park in the country, was sanctioned.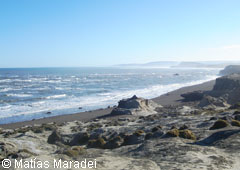 Monte León protects a continental portion of 60 km² and 36 km of coasts. It has a total area of ​​61,700 ha. It is located in the southeast of the province of Santa Cruz, 210 km north of Río Gallegos.
What made the creation of the park possible was the fact that the area includes a representative sample of the Patagonian coastal biodiversity in a good state of conservation, both of the marine fauna and flora and of the steppe.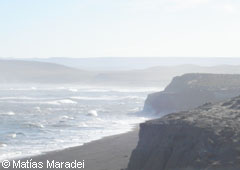 The park has an important colony of Magellan  penguins, composed of 60,000 individuals. It is the fourth colony in importance of the country.
Once you have access to this road, you will travel between canyons and valleys of singular beauty, until you reach the beautiful beaches of Isla
of Monte León.
Close to the coast you will be able to observe the majestic and solemn Monte León, a promontory that juts out from the cliff and that resembles an immense American lion.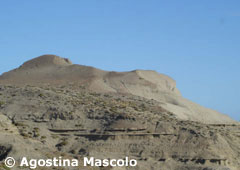 The tidal range is extraordinary, the low tide discovers an immense beach of wet but compact sand that allows you to walk to an important cave, excavated by the water in the living rock, with a hole in the vault that allows the entry of natural light .
Nearby, walking along a well-demarcated path, you can reach the Penguin Colony and Lobería de Monte León.