Junín de los Andes was the first settlement in the Province of Neuquén. Today it's part of the legendary Route 40's corridor and is the gateway to the trails of Lanin volcano.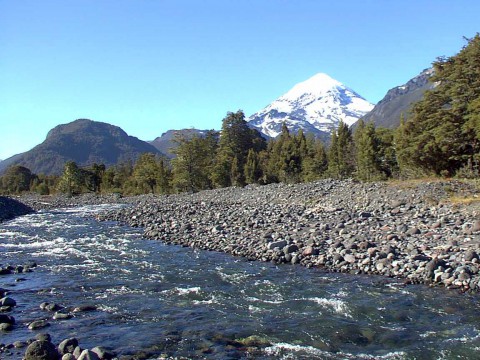 For centuries it was the mandatory route between the chilean Araucania and the Argentine pampas. The Desert Conquest closed this cycle and founded on February 15, 1883, the Junín de los Andes Fort in the Chimehuín River Valley.
In 1892, Father Domingo Milanesio founds the Salesian Mission, thus beginning the missionary crusade among the aborigines of the region. In 1894, the first municipal council is installed and houses and stores are built around it thanks to the official auction of government-owned land.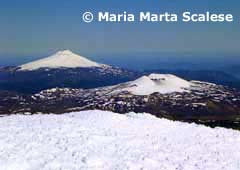 At the beginning of this century Junín de los Andes becomes the administrative and commercial center of the region. Cattle raising is its main source of revenue.
Today, Junín de los Andes is a tourist center where you can find several attractions and do a lot of activities and excursions.
It is surrounded by more than ten Mapuche communities, therefore the local craftsmen walk is one of the most assorted and autochthonous of the region. Here there is also an interesting Mapuche Museum.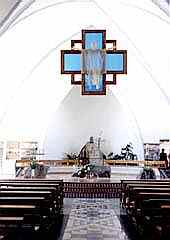 The Nuestra Señora de las Nieves Church is another must in the city. It was finally opened in 1999 and it gives one of the most beautiful examples of this rare mix of cultures that took place in many areas of Patagonia: the Christian Religion and the Mapuche culture. It is built mainly in regional wood and stone, and also a rare combination of glass and vitreaux that gives it a magical ambience. There, you will find the remains of the priest Domingo Milanesio and the relics of the Laura Vicuña lay sister, a local emblem.
Lanin Volcano is one of the main attractions of the area. You can climb the north slope, this is called the "traditional route". It faces Lake Tromen. In this tour there are three shelters and you can spend the night in one of them.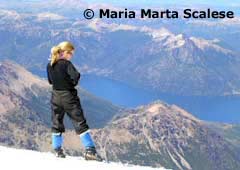 The other way to climb the volcano is reserved for experienced climbers only. You go through the south slope, the one facing Lake Paimun. There is only one shelter and for the last part of the way you need to have experience on ice.
And of course, there is salmon fishing, which has made Junín de los Andes a world known place: the "boca" (mouth) of the Chimehuin River, the confluence of river Curruhue and the Lakes Corrridor. And so many other places….