To visit Estancia Cristina, in the heart of the Glaciers National Park, is a genuine Patagonia experience. It is also the only chance to observe the giant Upsala Glacier.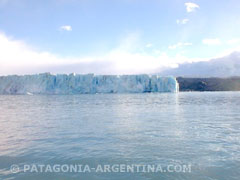 The Upsala Glacier forms a tongue of ice that is 50 Km. long, 10 Km. wide and several hundred meters thick.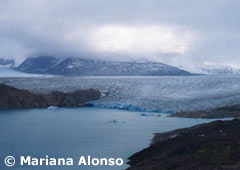 At its core there is a long, dark stripe which in fact is a moraine: a collection of rocks, sand and clay transported by smaller glaciers, tributaries of the Upsala that has been "trapped" inside it when two tongues of ice converged.
Nowadays given the large decline that the Upsala Glacier is experiencing, the only way to appreciate it is from the viewpoint located at Estancia Cristina.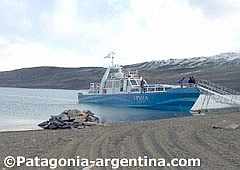 This is a lake tour, aboard a modern catamaran with all services. Departure is at 8 am from El Calafate to Puerto Bandera Pier in the North Branch of Lake Argentino, about 45 km distant El Calafate.
Navigating this Branch first, breakfast is served on board. Later the Icebergs Barrier which prevents accessing the Glacier's western face is visited. From there the navigation continues along the Canal Cristina up to the point of disembarking at the Estancia.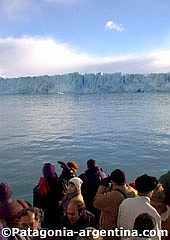 The captain will guide the ship in such a way you will be able to enjoy and take the most impressive pictures for you to take back to the "real world" (because here you will feel you are in another dimension…).
Once at the Estancia, there are several choices of activities: Visit only the historical center of the establishment, take a tour in 4WD vehicles to the viewpoint of Upsala Glacier, or after a hike with some restrictions, reach a fossil site.
In any case lunch is offered at the Estancia's main house, consisting of roasted lamb, homemade breads and pastry, cakes, etc. .. All with a first class service.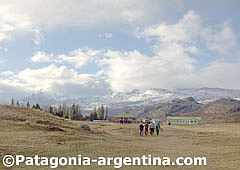 Finally, after staying six hours in the place, we return to the pier to get on the boat back to Puerto Bandera. In this last part of the excursion, a snack is served on board.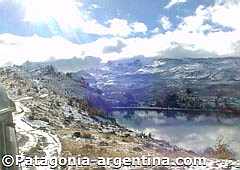 This excursion is available only during high season, from October to May.