How to get to Bariloche?
If you wish to visit this magnificent place in the Argentine Patagonia, here's how to get around.
Many means of transportation will take you there: several bus companies connect Bariloche with the whole rest of Argentina and Chile, and regular flights serve different destinations in the country as well as in Brazil and Chile. Besides, there is a railway service departing from Viedma, which allows to enjoy the unique Patagonian landscapes, because it crosses an area called "Línea Sur" (southern line) in the Province of Río Negro.
For those who travel by car there are two options departing from Buenos Aires: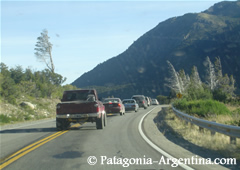 1) You have to follow this route itinerary: "Acceso Oeste" Highway , National Route Nº5, NR Nº35, NR Nº152, Provincial Route Nº20 ("Desert Route"), NR Nº151 and NR Nº237.
2) You have to follow this route itinerary: Ricchieri Highway, Autopista del Sur Highway, NR Nº3, NR Nº22 and NR Nº237.
Distances in kilometers from San Carlos de Bariloche
Buenos Aires
1621
San Martín de Los Andes
180
Comodoro Rivadavia
840
Córdoba
1588
El Calafate
1449
El Bolsón
126
Esquel
272
Neuquen
443
Puerto Madryn
745
Rawson
909
Río Gallegos
1663
Río Grande
1960
San Antonio Oeste
654
Trelew
890
Ushuaia
2178
Viedma
821
Zapala
Santa Rosa
375
1443
4 days, 3 hotel nights with breakfast. Taxes. Transfers in/out airport-hotel-airport at Puerto Madryn. Excursion to Península de Valdés. Excursion Punta Tombo (penguins colony)
Transfers in/out. 4 days, 3 nights with breakfast. Excursion Perito Moreno Glacier. Nautical Safari. Excursion Estancia Cristina Classic (summer) or Rivers of Ice (winter). Bilingual (Spanish-English) guides. Taxes.
4 hotel nights with breakfast. Transfers in/out airport-hotel-airport at Bariloche. Excursion Small Circuit. Excursion to Victoria Island and Arrayanes' Wood. Excursion to S.M. Andes via the Seven Lakes.