Minitrekking on Perito Moreno Glacier
A truly unforgettable experience! On this tour you will discover the unique sensation of walking over the ancient ice.
The tour begins at the Bay Harbor "Bajo de las Sombras", sited 22 km from The Glaciers National Park entrance and 8 km from the Glacier.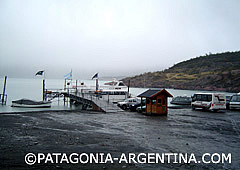 There you go on board in order to reach the opposite coast of Peninsula de Magallanes, crossing the Rico Branch of Argentine Lake. The sailing time is about twenty minutes.
Specialized guides take the group(approximately 20 people) along a coast path that leads to the southern margin of the glacier after a 30 minutes trip.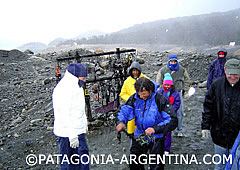 There, helped by experts, metallic nails in shoes are put, necessary to walk on ice.
Also, the basic technique to use them is explained and a speech about glacier origin, regional flora and fauna is given.
From there, you begin to climb towards the glacier slowly, walking for about two hours, stopping occasionally just to take some pictures.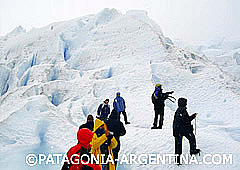 It's a unique opportunity to appreciate in situ the different formations of the glacier (drains, cracks, etc.) and the varied tonalities of the ice that constitute a show by themselves.
On the way back, an alternative path is used through the forest, allowing to obtain a different panoramic view of the glacier.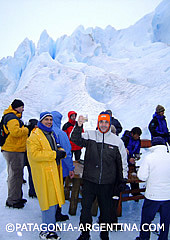 When arriving to the shelter, lunch is eaten and then the group goes aboard to navigate back toward the starting point. During this sailing, approaches to the front wall of the glacier in order to appreciate the real proportion of it are carried out.


Some recommendations to have in mind: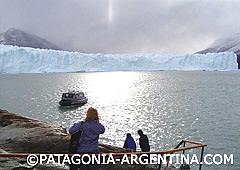 Wear trekking boots or sneakers
carry gloves and sunglasses
carry food for lunch (the shelter doesn't have gastronomic
facilities).
All the domestic flights within Argentina (Buenos Aires/Iguazú/Buenos Aires/El Calafate/Ushuaia/Buenos Aires) In and out transfers at every destination. 4 nights lodging in Buenos Aires. 3 nights lodging...
Departure and arrival transfers in each destination. A two night stay in Iguazú and three in El Calafate with breakfast. Excursions: In El Calafate: visit to...
5 days, 4 nights at a hotel with breakfast included. Excursion to the Perito Moreno Glacier with lunchbox. Full day excursion to El Chaltén and free self...
Arrival and departure transfers. Transfers El Calafate/El Chaltén/El Calafate. 3 night stay with breakfast in El Calafate. 2 night stay in El Chaltén with breakfast Minitrekking excursion on the...
Arrival and departure transfers. 4 night stay with breakfast. Full-day excurision to the Torres del Paine National Park, snack included. Excursion to the Perito Moreno Glacier, with Nautical...
2 hotel nights at each destination with breakfast. Transfers in/out airport-hotel-airport at Ushuaia and El Calafate. Excursion: National Park Tierra del Fuego and End of the...