More than 100 years ago, on June 29, 1900, Antoine de Saint Exupéry was born in Lyon, France. The famous author of The Little Prince, was destined to create ties of affection, inspiration and love with Argentina, and in particular with our beloved Patagonia.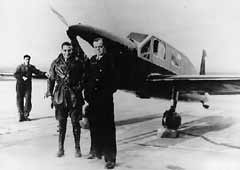 Saint Exupéry is one of the famous writers and travelers who have been in Patagonia and reflected in his work this portion of the American continent. We want to revisit a small bit of his life, the one that links him to this region, so far from his native France, but so close in his affections, his letters and his books.
Saint Exupéry arrived in Argentina on October 12, 1929, along with Jean Mermoz and Guillaumet, his companions in aviation.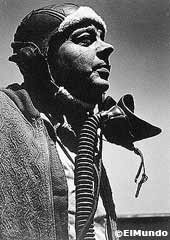 He was the founder and first pilot of the Aeropostal  Argentina, the first aviation company in the country. This airline was dedicated mainly to the transport of correspondence, the business of the time, although it also carried, sporadically, passengers. The first flight was made on October 20, 1929, between Buenos Aires and Comodoro Rivadavia. The stopovers were in San Antonio Oeste, whose aerodrome is now named Saint Exupéry, and Trelew, where it is said that our pilot collected a seal.
The impression that the Patagonian landscapes caused Saint Exupéry is reflected in his correspondence. We read what he writes in a letter to his mother, trying to describe these places from heaven:
"What a beautiful country and how extraordinary is the Andes Mountain Range! I was at 6500 meters altitude, at the birth of a snowstorm. All the peaks blew snow like volcanoes and it seemed to me that the whole mountain was beginning to boil … "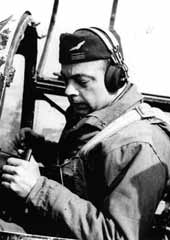 Its functions were not limited to commercial flights but also carried out reconnaissance flights, inspection rounds and raids to Tierra del Fuego. Many of these daily flights, of 18 hours, were carried out at night, which inspired him to start writing, between two missions, "a book about the night flight", which will be finally Night Flight, published to his return to France in 1931.
In June 1930 his companion Guillaumet was lost in the mountains during a storm. For days and days, Saint Exupéry flew over the Andes looking for him or for any sign of his fate. Nobody wanted to accompany him on a trip by land, since the wisdom of the Baqueanos says that the Andes, in winter, do not return men. He writes, then, in an imaginary letter to his friend, which will then be part of his book Land of Men:
"… And when I again slipped between the walls of the giant pillars of the Andes, it seemed to me that I was not looking for you anymore, but that I watched over your body in silence, inside a cathedral of snow …"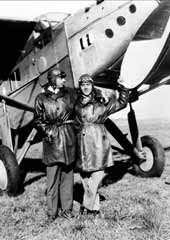 Incredibly, after five days of erring, the pilot was found safe and sound. The story of his heroic journey in the mountains, heard so many times by Saint Exupéry, is told in great detail and poetry, in the same book we mentioned, Land of Men.
In January 1931, after fifteen months of stay in our country, he returned to France. His purpose, in principle was simply to take a vacation, which would be used to marry a young woman, Consuelo Suncin, who had been presented to in Buenos Aires. While in Europe, the company Aeropostal Argentina declared bankruptcy and Saint Exupéry would no longer return to Argentina.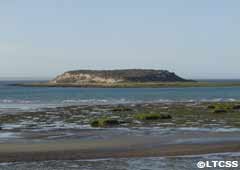 In 1943 he would write his most famous short work: The Little Prince, where one of his illustrations on a boa that swallows an elephant would have a rather particular resemblance to the silhouette of the Island of the Birds …
His novel Vol de Nuit (Night Flight), which talks about the beginnings of the South American Air Postal Service, was taken to the big screen by Metro Goldwyn Mayer.
The Laté 25, the plane used by Antoine de Saint Exupéry in the Aeropostal Argentina, arrived in our country in 1929, piloted by Saint Exupéry himself, at the request of Jean Mermoz. After nearly forty years of neglect, it has been restored respecting, as far as possible, the original materials of its construction. It was presented in the month of April in the hangars of the Air Force of the city of Quilmes, Province of Buenos Aires, and there it is exposed to the general public.
This plane is a monoplane that could transport a ton of merchandise and travel an average of 5,000 km. without difficulties. It can serve as an example of the technical advance that represented for the time, the fact that that it connected Buenos Aires with Comodoro Rivadavia at an average speed of 174 km / h.!