The first men arrived to the southern edge of Patagonia and the Tierra del Fuego Channels ten thousand years ago. Their ethnical origins were diverse but surely all of them came in from the north and belonged to tribes that crossed the Bering Strait during the glacial age.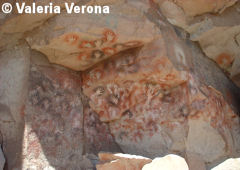 During their development, these tribes inherited from other ones the same material, spiritual and racial influences.
We know very little about them: Their houses were semicircular and buried up to their halves. These men fished and hunted, and for fishing they used boats and harpoons. They also collected mollusks.
Patagonia, being the tip of South America's funnel, constitutes a "cornering area". This makes it ethnically conservative, which means that it is possible to find racial and cultural features as those found in fishermen, hunters and collectors.
At the Magellan Strait area there are currently two dominant ethnic types, which descend from those of the old days: The canoe aborigines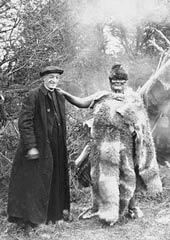 (alacalufes and yámanas or yaganes) and the land aborigines (Onas in the Tierra del Fuego Island and Tehuelches or Patagones in the continent.
At the Tierra del Fuego archipelagos, human presence took longer to appear. Apparently, most part of that migration came in by the sea, through Pacific Ocean.
Patagonian civilizations were nomad, reason for which there are neither remainders of towns or buildings nor written documents or any kind of cultural expression connected to their development. But there are stone constructions, semicircular shelters used for temporary lodging of groups of hunters, as well as pyramidal burial mounds.
Surprisingly, there are abundant imprints and paintings, some of them in excellent conditions like the ones at "Cueva de las Manos" (Hands Cave), to the shores of River Pinturas, in Province of Santa Cruz.