This small town has 5000 inhabitants and it is located in the center of the Patagonian Plateau.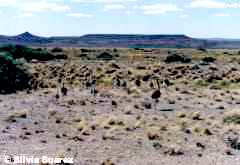 The railway line arrived in 1917 when there was only a small group of houses called Huahuel Niyeu, later baptized as Ingeniero Jacobacci so as to pay homage to the person in charge of building the railway line from San Antonio Oeste to San Carlos de Bariloche.
This is the most important locality of the area. The Línea sur of the Province of Río Negro is made up by several towns that are not far from Jacobacci: Los Menucos, Maquinchao, Onelli, Sierra Colorada, Ramos Mexía, Aguada Cecilio and Comallo, among others. All of them have emerged and developed due to the train and to the extensive sheep breeding. Most of the inhabitants of this town descend from Mapuche aborigines and there is a large number of Syrian and Lebanese as well.
They also exploit diatomite rock, a white, soft, siliceous sedimentary rock that is used for whitening,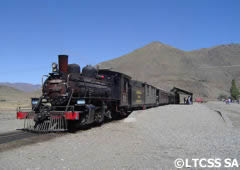 filtering and as insulation material for many industries.
Jacobacci used to be where the Old Patagonian Express 'La Trochita¨ ended its route. Unfortunately, nowadays the service is reduced to the Esquel-El Maitén track. However, there are projects to restore the original rail track.
Visit the "Jorge Gerhold" Natural, anthropology and historical Museum where you will be able to see different mammal fossils, giant arrowheads, a ceremonial axe,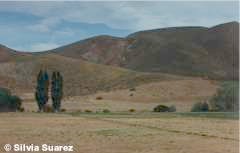 skulls of different Patagonian species and regional documents. The Fossil Trunk Square (Plaza de Troncos Fósiles) is a green space with petrified trunks. In the intersection of the Roldán and Curtizu streets, there is the Ñumican Crafts Center where there are wonderful knitting works following the Mapuche traditions.
The Michay Festival (Fiesta del Michay), the bush with yellow flowers and blue fruits, takes place in February.