This town, typical of the Patagonian plateau, is 58 km away west of Caleta Olivia, along Provincial Route 12.

The emblems of Pico Truncado are the Wind Farm and a gigantic sculpture of a dinosaur.
The "Bridasaurus"
The life-size dinosaur monument, called "Bridasaurio" by the name of the company that ordered it to be built, was made by the sculptor Carlos Regazzoni with elements of an oil field. The sculpture thus brings together the two essential elements of Pico Truncado: its prehistoric past and its foundation linked to the discovery of oil.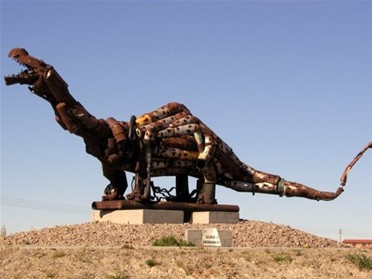 The wind farm
Two huge wind power generators mark the landscape on the outskirts of Pico Truncado. In 1995, when this park was inaugurated, the generators were 10. Today, with new technology, they could be replaced by the two that are seen and that produce 30% of the energy consumed by the city.
History of the town
In the year 1900, the first settlers arrived. Its name is due to a nearby hill, which has these characteristics. The discovery of oil in the area of ​​Cañadón Seco and Caleta Olivia gives impetus to the site with the arrival of Y.P.F. (Fiscal Oilfields) . In 1946, while digging water wells, gas arises in Pico Truncado, which is why it is now known as the "National Capital of Gas".