Its name comes from two mapuche words: pil: rock and tron: clouds. Literally: "hanging from the clouds". When you observe it on a rainy day, it really seems to be hanging from the clouds.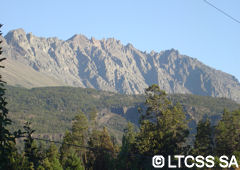 From the base, some 11 Km. from downtown, you follow the path to the shelter. Ascending 3 km. you will appreciate the valleys forming the Parallel 42 Andean Region. From the top, the following peaks can be seen: Tres Picosto the south and Tronador to the north and sometimes the Osorno volcano, in Chile. It is recommended to take advantage of the cool hours of the morning if the ascent is in summer. There is a shelter where you can sleep (take sleeping bag), with meals and sanitary facilities.
If you cover the whole itinerary, remember to take water, nuts, raisins, chocolates and sweets, light shoes and boots to reach the top.