Cipolletti
Located near the confluence of Neuquén and Negro rivers, at only 5km. from the Neuquén, this city has a population of 70,000.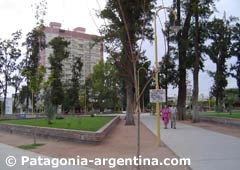 It was founded by General Lorenzo Vintter in 1881,who order the construction of a fort called Confluencia. Later it was changed to its present name after César Cipolletti, one of the forerunners of the study of the irrigation system of the Río Negro.
The city grew thanks to its strategic location and the richness of its land for the growth of fruits, specially apples and pears.
With General Roca, they are the two largest cities in the Alto Valle del Río Negro.

Today Cipolletti is a thriving urban center offering very interesting sites.
You shouldn´t miss the Museo Carlos Ameghino dedicated to regional history and paleontology. You will be astonished at the head of an Avelisaurus, Titanosaurus eggs and a Gliptodont shell, all found in the area.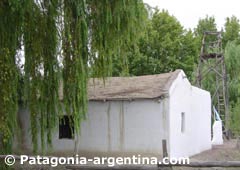 There is another historical site in reference to the Desert Campaign (War against the indians) and the Primera División Fort.
And if you want to live the city´s atmosphere at the beginning of the century do not miss the Peuser Mansion, a beautiful house just across the railway station.
Due to the importance of the fruit crop in this Patagonian area, you have to visit Tres Ases, a fruit packing plant and exporter. Here fruits are washed and classified for the internal market and for export. Another establishment to visit is Jugos Cipolletti, one of the largest juice producers in the country.
A few kilometers from downtown Cipolletti you will enjoy nature at Jordán island in the Rïo Negro. There is a camping site and fishing possibilities, practice of watersports and a swim in the clean river waters.
See Also: The Cold Region Wines