El Calafate: Glaciers capital
El Calafate, a small town located where the Santa Cruz plateau meets the Andes, is the gateway to the Perito Moreno Glacier. Learn all about what there is to see, know and do, guided as usual by Patagonia-argentina.com's experts.
The El Calafate town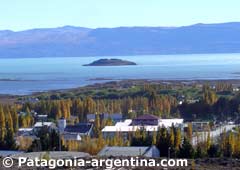 The tourist circuit in this region begins at this small town in Southwestern Santa Cruz province, on the south bank of Lake Argentino. Its main activity is Tourism, which keeps growing year after year, due to its neighboring to Perito Moreno Glacier.
Founded in 1927, El Calafate did not grow until the 1940's, when the National Park was created.
El Calafate has all the facilities needed to satisfy an ever growing tourist influx: there are hotels from 1 to 5 stars, as well as warm and charming "Hosterías" to stay at. And during summer there are also campsites.
It was named after a typical thorny bush of southern Patagonia. The Calafate blooms in the spring with yellow flowers and in summer with purple fruits. According to tradition those who eat this fruit will always return to Patagonia.
All the domestic flights within Argentina (Buenos Aires/Iguazú/Buenos Aires/El Calafate/Ushuaia/Buenos Aires) In and out transfers at every destination. 4 nights lodging in Buenos Aires. 3 nights lodging...
Departure and arrival transfers in each destination. A two night stay in Iguazú and three in El Calafate with breakfast. Excursions: In El Calafate: visit to...
5 days, 4 nights at a hotel with breakfast included. Excursion to the Perito Moreno Glacier with lunchbox. Full day excursion to El Chaltén and free self...
Arrival and departure transfers. Transfers El Calafate/El Chaltén/El Calafate. 3 night stay with breakfast in El Calafate. 2 night stay in El Chaltén with breakfast Minitrekking excursion on the...
Arrival and departure transfers. 4 night stay with breakfast. Full-day excurision to the Torres del Paine National Park, snack included. Excursion to the Perito Moreno Glacier, with Nautical...
2 hotel nights at each destination with breakfast. Transfers in/out airport-hotel-airport at Ushuaia and El Calafate. Excursion: National Park Tierra del Fuego and End of the...