For those of us who really enjoy photography, touring Argentina becomes fascinating since, besides enjoying all the unique landscapes its geography offers, at the moment of taking a picture we can bring home a bit of its charm.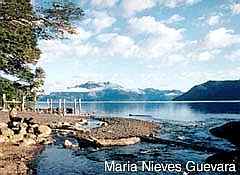 One typical route which is replete of beautiful and assorted beauties is the one that results of traversing southbound the western areas of the Neuquen and Rio Negro provinces, starting at Junin de los Andes up to Bariloche. This enables the traveler to enjoy, among many other heavenly sights, the famous Road of the Seven Lakes.
I invite you to take a break and enjoy the peace and harmony reigning here. Let's start this dream trip!
Lanín Volcano and Lake Huechulafquen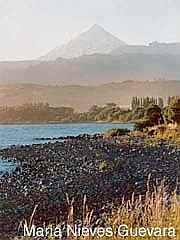 From Junin de los Andes we take (paved) route 234 northbound up to the crossing with route 61 (gravel) where we turn left. A few miles, escorted on our right by River Chimehuin (fishermen's sanctuary), we spot the majestic Lanin Volcano.
After some 20 miles we will start to border Lake  Huechulafquen, incredibly beautiful and really large. Then we enter Lanin National Park. The road, with ups and downs, conducts us through different landscapes. It is advisable to devote enough time when doing this and do many stops in order to take great photographs and admire this great environment.
Open-door activities and camping fans will have an unmatchable chance of settling their tents right on the shores of this Lake. There are many campsites, some of them offering all the services plus a drugstore. Some even offer piers in order to embark on the lake.
The road leads us to Puerto Canoas, where you can get aboard a catamaran in order to perform an excursion across Lake Huechulafquen up to Lake Epulafquen, renown for its volcanic originated thermal waters. From the lake you can get an impressive view of the Volcano and nearby peaks.
Further on the same road, westbound, you arrive to Lake Paimun where this tour finishes.
I insist on this, you must devote enough time to take this excursion and to be able to enjoy all of its features and charms. This means stopping at each little part of the road that catches our attention, get close to the Lakes with its immaculate waters and, if possible, to spend a night or two breathing pure air and counting the endless stars…
Lake Tromen
To get to this lake we must leave Junin de Los Andes via Route 234 (paved) northbound up to the crossing with route 60 (gravel) where we turn left. A few miles you reach the Treuco Mapuche Community. To visit it, we must take a 1,5 mile detour to the right. Following the main road we access, a bit ahead and also to the right, the Chiquilihuín Mapuche Community
In both cases it is advisable to take this small detour and get close to these communities, meet the people, chat with them, discover their life habits and, if possible, show a bit of solidarity by means of purchasing some of their crafts, mainly in wool and wood.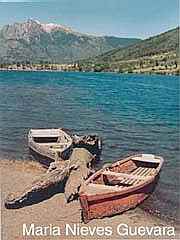 This road has got less vegetation than the one to Lake Huechulafquen but, at its end and after passing by a Araucarias trees wood (unique in the world) once we are close to the border with Chile, we can see Lanin Volcano's north hillside, which is larger and less snowy than its south counterpart.
To access Lake Tromen we must turn right for some 2 miles, escorted by endless multicolor, wild flowers, like the rainbow daisies.
Once we get to this Lake, amidst a dream landscape, a strong and deep feeling of peace takes hold of us. You can camp here too. In any case, even in summer consider that nights are pretty cool even in summer so, bring suitable clothing with you.
Text and Photographs: María Nieves Guevara