It is the youngest town in Argentina. And proof of this is that in El Chaltén there is no cemetery. Its residents come from all over Argentina and the world and everyday they are more. And they don't just come to "spend the summer months" but some come to stay there for the rest of their lives. The view of Mount Fitz Roy and the unique sensation of living in a privileged corner of the globe is the main attraction.
El Chaltén, the youngest town in Argentina was founded in 1985. And it is experiencing a demographic explosion in two ways: for the people who are coming to make it their home and also for the large numbers of tourists who visit during the season that extends from December to the end of March, but that is at its peak during January and February. There are more than 300 permanent inhabitants, and the number of tourists grew from 14,000 in 2000 to 45,000 in the last season. The majority are foreigners who come to practice trekking and mountain climbing in various levels of difficulty, or to simply visit an impressive part of the Glaciers National Park.
The Argentines who venture into this corner of Patagonia do so to visit a territory that was the object of a border dispute between Argentina and Chile over the possession of the Lago del Desierto (Lake of the Desert). These geopolitical questions were in fact what originally spurred the foundation of the town, which is due to a decree that came into effect October 12th. 1985.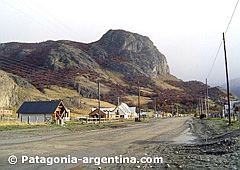 The town has the appearance of a stone amphitheatre, surrounded by snow and ice. All of the houses are low structures with pitched roofs and the few roads are gravel. What makes the town unique is the imposing silhouette of the slopes of Mount Fitz Roy, which can be seen from any point of the town. Fitz Roy was named by Perito Moreno, in honor of the captain of the ship the Beagle, in which Charles Darwin traveled across Latin America. However, it was called Chaltén by the Native People, which meant "Smoking Mountain" in the language of Tehuelche. They called it this because they thought that it was a volcano because there always appeared to be a cloud of smoke around its peak. But it isn't smoke, they are clouds. The western face of the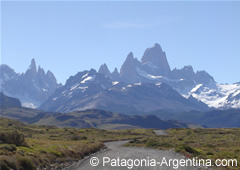 mountain is always hidden by clouds from the view of the townspeople because the air moves at high velocities up the face of the mountain, pushing clouds to the peak, where they appear to be smoke.
People come to El Chaltén to hike. It is the national capital of hiking. There is an immense amount of trails to choose from, covering the entire spectrum of difficulty, satisfying not only those who only want to take a stroll but to daring visitors who are looking for adventure. We propose the following hikes according to the time the traveler has available and the level of difficulty that they want to confront.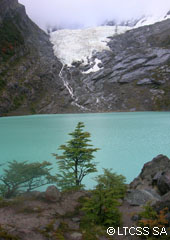 For one day or less :
Fitz Roy Look Out Point (Mirador del Cerro Fitz Roy): 1:30 one way, with a climb of 350 meters and low difficulty.
Lake Capri (Laguna Capri): 1:45 one way, a climb of 350 meters and low difficulty, although there is a straight climb in the beginning.
Lookout Point Cerro Torre (Mirador del Cerro Torre): 1:30 one way, with a climb of 250 meters and low difficulty, and a straight climb.
Chorrillo del Salto: 1 hour one way, without a climb, and not difficult. Ideal for days with bad weather. You can also get there by vehicle, and later do a very short walk.
Piedra del Fraile: 1:45 one way, without a climb, the path begins crossing the bridge above the Eléctrico River, and it goes along private property, bordering the river.
Estancia Madsen: 45' one way, without a climb, little effort needed, you must cross a footbridge.
Lago Viedma: arrive by car. You can also sail.
Lago del Desierto: arrive by car. It is only 40km from El Chaltén, but because it is a mountain road the trip could take two hours or more.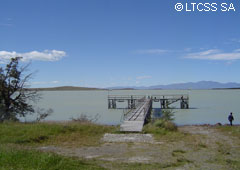 For a bigger challenge, lasting between two and four hours, one way:
Poincenot: 2:45 one way, with a climb of 350 meters, it has the last view of the mountain until Laguna de los Tres.
Río Blanco: 3 hours one way, with a climb of 350 meters, there is no view of the mountain, ideal for days with bad weather.
Laguna de los Tres: 4 hours one way, with an ascent of 750 meters, the view of Fitz Roy is excellent, the climb is very vertical.
Piedras Blancas: 4 hours one way, 450 meter ascent, it is a good alternative if you can't see the mountain that day.
De Agostini: 2:45 one way, with an ascent of 250 meters, there is a campground on the shores of the lake of the Fitz Roy river.
Laguna Torre: 3 hours one way, 250 meter ascent, it has a excellent view of the top of the mountain.
Maestri Lookout Point (Mirador Maestri): 4 hours one way, 300 meter ascent, it has a good view of the Big Glacier (Glaciar Grande).
Loma del Pliegue Tumbado: 4 hours, 1000 meter ascent, it is a mountain with an excellent view.
Bahía Túnel: 2:30 one way, with an ascent of 100 meters, including time in a boat.
NOTE: Almost all of these hikes can also be done on horseback.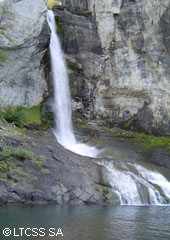 For advanced climbers, only with a guide:
Climbing the Glacier: 8 hours in total, 5 on ice, with ice climbing equipment needed.
Laguna Toro: 7 hours one way, 500 meters of ascent, only for experienced climbers.
Continental Ice (Hielo Continental): options for three and ten days, camping above ice, depending on the weather conditions.
Advice for everyone:
Use comfortable well-worn shoes or boots (not brand new ones), to prevent blisters.
Keep in mind that the entire path has to be hiked back to return to the base.
If you are going to camp, bring an extra pair of comfortable shoes to use.
You should bring extra socks.
Bring a water bottle. In many cases you can refill them in streams or rivers.
Even though some of the hikes are short, you should always bring some food. The best are lightweight foods that have a lot of energy, such as chocolate, dried fruit, raisins, etc.
If you are going to camp don't forget a food cooker and a garbage bag. You should also bring a container to wash utensils with biodegradable soap, far away from water sources.
Remember that everything you bring with you needs to leave with you. Nothing should be left behind in the campgrounds or in the trails. You will find garbage cans at the beginning of each trail.
Don't forget sunglasses and a flashlight, even if you won't be hiking at night, just in case.
Dress in layers that are easy to remove and put back on, and always bring rain gear.
Sunscreen and insect repellent are good things to have.
To prevent getting lost, look at the path, and if there are two, chose the one that is better marked. Don't get separated from your hiking companions. And always ask at what time the sun sets.
To reach many of the places that are on the maps you have to cross private property. Always ask the permission of the owner.
PREVENT FOREST FIRES. Remember that it is not permitted to make fires with logs in any part of the park. Stub out cigarettes well and keep the stub in your bag until you find a trash can. Remember that the smallest spark can start a forest fire.
If you are going to camp, don't make trenches around the tent, they aren't necessary. Use the latrines or make your necessities at least 100 steps away from any water source and bury it with the paper you use.
Remember the slogan: LEAVE NO PROOF BEHIND THAT YOU WERE THERE. Every person has the right to feel that they were the first person to see that place. And as someone using the national park, it is your responsibility to protect it.
In addition to these great hikes from El Chaltén, there are also some great opportunities to use boats. The views are spectacular and are distinct from the ones offered by those leaving from El Calafate:
Lake del Desierto : A boat ride of two hours that permits a view of the Huemul Glacier and of the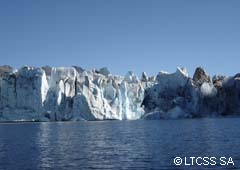 Vespignani Mountain.
Lake Viedma: There are two options, the shorter one is that in which you can see the Glacier of the same name and the amphitheatre La Cascada, and in the longer option is a boat ride of six hours until reaching Helsingfors Estancia where you will disembark.