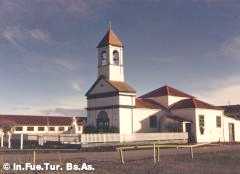 Situated on the northern part of the island of Tierra del Fuego. It is the second city in the Province after Ushuaia.
Sheep, as in many places in Patagonia, is the reason for population settlements since the end of the 19th. century.
Abundant rivers, sea coasts and good pastures are some of the reasons that justify the population growth. Río Grande was born spontaneously, on the 14th. of July, 1921. The central Government issued a decree recognizing this locality as the "Agricultural Colony of Río Grande"
At the beginning the land was subdivided among a few families owning large estates until the agrarian reform of 1925. Cattle raising became one of the most important economic activities in the area.
Thanks to a law promoting industrial development, several companies involved in the manufacture of electronic products open their factories here, giving the city an industrial profile.
Today, Río Grande is a bustling town where you will be able to visit natural and historical sites. If you are interested in adventure, don´t forget that Río Grande offers you fishing, trekking, horseback riding, photographic safaris and even the possibility of observing sheep shearing.