In 1998, the First National Encounter of Sculptors was held in El Bolsón, in the middle of Cerro Piltriquitrón. The idea had come from the imagination of Marcelo López, a year before: to give life to a part of the forest burned by a fire.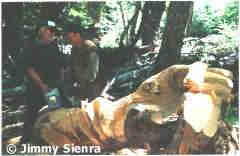 At more than 1400 meters high, with difficult access, in a unique landscape environment, 25 sculptures were carved. Graciela Francucci, a participant in this unprecedented Patagonian experience, tells us about her experiences, illustrated by photographs by Jimmy Sienra.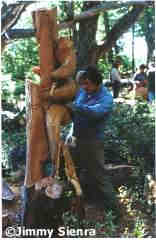 In November 1998, the Piltriquitrón hill with El Bolsón at its feet, brought together thirteen sculptors from different parts of the country. An ancient lengas forest at 1,400 m high, which suffered a fire in 1978, was the scene of this meeting. Fallen or dried legas were offered to these artists to wander with the shapes and textures. From the platform of the hill, which can be reached by vehicle, and 45 minutes up the steep climb, are the lengas. Later, another 20 minutes of ascent through the forest, was the refuge, destroyed by fire long ago. The sculptors worked for a week.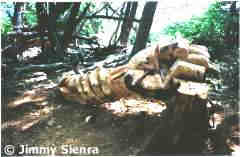 The first day they all met up, among trees and goblins. Later we arrived. Each one was assigned a plot and each one selected a log with which they would live exposed to each other for a week. Every morning they climbed the trail, some on foot, others on horseback. One of them, Ángel, always insisted on walking, expressing with satisfaction that mixture of suffering and pleasure … Despite his long career as a sculptor, he had never been carving inside a forest. They worked with chainsaws and other carpenter tools. Entering the forest and finding everyone with their creations of each moment, was like entering an enchanted place. They didn't want to leave! We revolved around one and his work, around another and his work …, observing, talking, taking photos. We were there, detained in what transcended the forest, the lengas and ourselves, bordering on the mystery.
Some obstacles arose during the carving, difficulties of the logs or ruined parts that had to be repaired or concealed, but everything was overcome with enthusiasm. One of the afternoons, with Roxy who visited us on those days, we observed photos of a small form of a woman, made of alabaster, carved by Nadia. The light through that translucent marble spread more than shape that captivated Roxy. The days passed and the last arrived, the goblins appeared again. The artists denied their tiredness with full expression. All the works were finished and they were beginning to open this sculpture walk. The wishes are that there will be many more, and also many encounters in the Piltriquitrón hill, located in that town with such a mixture of magic and poetry.
Guest sculptors:
Nadia Guthmann from Bariloche, Angel F. Marzorati and Raúl Varnerin, both from the Federal Capital, Cayetano Donato and Arturo Alvarez Lomba from the Province of Buenos Aires, Jaime A. Pereira and Guillermo Rodríguez from Tucumán, Susana Vallone from Resistencia, Chaco.
Local sculptors:
Raúl Navarra, Marcelo López, Hugo Vázquez, Juan Carlos Toledo and Eduardo Iuso.