Despite its poor promotion, Patagonian music has had a great development and relevance in the culture of its people since its ancestral beginnings. We invite you to travel through those origins to the present day.
Four men dance around a bonfire at the center of the scene. Dressed in chiripás (typical clothes) and diadems made of ñandú (Greater Rhea) red feathers, they run, jump, bend, and stand up again while rapidly shaking their heads at the rhythm of the kultrún (indian drum) and trutruka (indian trumpet). As if they were possessed by the spirits of the animals of the region, they dance to the music in an attempt to become the last ones standing on their feet. This is called loncomeo, and is one of the many music and dance genres in Patagonia.
Music as a source of identity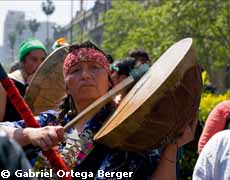 The loncomeo used to be performed only in the Mapuche festival called Huecunruca, which was held for a girl's first menstruation. In this festival, men used to dance while participating in what was both a religious ritual and a competition, whose objective was to be the last to remain dancing.
At present, the rhythm and songs of this ritual dance survive in contemporary folk artists. This is the case of Marcelo Berbel and his sons. He was born in the province of Neuquén and is one of the most renowned poets in Patagonia; his song "Amutuy Soledad" was taken by singer Soledad Pastorutti and included in her record "Soledad".

Amutuy Soledad.
Marisa Cirilo and Ricardo Parada, two musicians from San Martín de los Andes and members of the Huerquen duo, have set music to Marcelo Berbel's poems and sang them with him. The duo compiles, creates and spreads different forms of expressions adopted by the region's typical music: kaani, loncomeo, chorillera, polca and retumbo cordillerano.

A piedras voces by Paillacán.
Another example is singer-songwriter Eduardo Paillacán from Esquel, who plays ancestral songs in Mapundungun, the native tongue of
Mapuche people.
Between 1978 and 1998, musician Raúl Mario Silva conducted a testimonial compilation of Tehuelche music pieces in Chubut and Santa Cruz, entitled "Caminos sonoros de la Patagonia" ("Patagonian Sound Roads").
In this work, he explains that the prevailing characteristics of Tehuelche music are low and middle-high register singing, repeated breaths and accents, and irregular meter.
Silva also mentions that Mapuche music is generally related to mystical prayers. Within this group, the Taiel, or singing, and romanceos, or sung poetry, stand out. He concludes that "the sacred vocal repertoire is the source of Mapuche people ethnic identity".

Rapinilke Mapu by Beatriz Pichi Malen.
A southern music net
In this region, the richness of native music coexists with other foreign music styles that are rapidly developing. Rock, jazz, classical, and electronic music add up to a live example of the region's cultural fabric.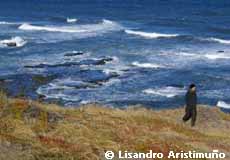 Lisandro Aristimuño's music is a live example of this cultural mix. A folk base, electronic accents, and pop spirit coexist in his music. Aristimuño, born in Viedma in 1978, was successful in taking the southern winds and the nuances of his homeland overseas.
His last album, 39º, released in 2007, follows the path first taken by its predecessors, Azules turquesas and Ese asunto de la ventana.

El árbol caído by Lisandro Aristimuño.
The Rebel Patagonia
Rock is also alive in Patagonia. A region that is home to the historical spirit of rebellion could not leave rock chords behind. Hence, the local rock-and-roll scene gathers many evolving bands.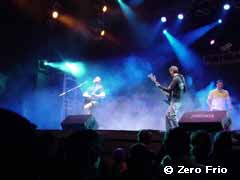 Nación Evasora, Mosca Roseta, and Zero frío are some examples of Patagonian rock cutting across regional boundaries.
Nación Evasora was born early in the '90s, in Viedma. Following some changes in its formation, several concerts throughout the national territory, three albums released, and an everlasting print left on local rock history, the band split up after twelve years.

Río de los sueños by Mosca Roseta.
Mosca Roseta, from Bariloche, is another representative band. With a rock and funk –a style derived from jazz and soul – fusion, a critical view of reality, and a southern essence, they got down from the stage to become depicted in street graffiti in the main Argentine cities.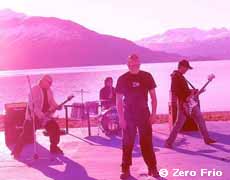 From El Calafate, Zero frío gained international acclaim in MTV "Adiós garage" contest for being the band with largest number of fans in Latin America. Band members are Franco Behrens (voice), Mariano Escalante (bass), Pablo Rial (guitar) and Federico Machelett (drums).
Its sound is the result of a fusion of several styles, such as rock, punk, post-punk, and some metal grunge. This year, their first album will be launched. Their music video for the single "Rendido a tus pies" is already available; it was recorded at the Perito Moreno Glacier and in the city of El Calafate.

Rendido a tus pies by Zero frío.
The South puts its best face forward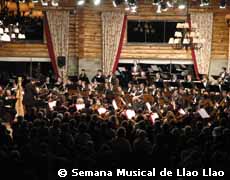 Classical music, in some sort of slow invasion, has gradually gotten hold of the southern cultural agenda. Orchestras, such as the Symphonic Orchestra of Neuquén or the Philharmonic Orchestra of Ushuaia, and festivals, such as the Llao Llao Music Week or Ushuaia International Festival, have amazingly flourished.
Since 1993, the Llao Llao Music Week has enabled "the meeting of art and nature" in San Carlos de Bariloche. With Martín Nijensohn as general director, this year the 16th Edition will be held on October 11-19.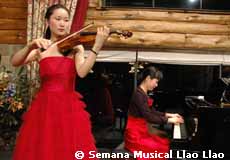 This event will feature the Symphonic Orchestra of Neuquén, with the participation of violinist Noe Inui; the Symphonic Orchestra of the University of Cuyo with Cuban soloist Roberto Urbayin piano; the Alexander String Quartet from the USA; the Swiss Piano Trio; and a piano concert by Vanessa Perez, from Venezuela.

UNR Juvenil Symphonic Orchestra in the Llao Llao Music Week.

Goran Filipec in Ushuaia International Festival.

Electropatagonia
The constant incursion of technology devices into the different le
vels of everyday life has brought about a new genre: electronic music. And in these lands, the phenomenon did not take long to come out. In the '90s, the first electronic festivals started to be held in rented dancing rooms and nightclubs.
In 1993, the first outdoor festival in the country was held in Neuquén: the Technology Night Mix, conducted by Darío Arcas, one of the most renowned DJs and organizers in the area. From 2002, this festival was followed by more popular ones, such as Apocalipsis, Dance Park, Nividance, and Uniquedance; and the opening of nightclubs in Neuquén featuring almost only this type of music, such as Rita and One. Also, for many years now the city has become one of the venues for Creamfields, the most important electronic music festival in the world.

Darío Arcas in Nividance.
The first Patagonian electronic music band was born in 2003 in the city of Neuquén: Another Freak. Its style can be defined as a mixture of drum and bass, reggae, dub, electronic music and rock, making use of acoustic drums, bass, guitar, flute, synthesizer, and groovebox. Band members are Luis Ferri (bass, groovebox, synthesizer and programming), "Jackal" Héctor Navarro (drums, synthesizers, programming, and trumpet), and Juan Fort (guitar, flute, synthesizers, groovebox, effects and programming).

Another Freak.
In San Carlos de Bariloche, Nico Cano, Chairaman, Din-Tun, and Doom are some of the outstanding DJs in charge of promoting, year after year, the consolidation of the national electronic scene.
DJ Gustavo Godoy, from Tierra del Fuego, is a finalist for the second time of the international Thirst contest, organized by Heineken in search of new talents around the world.

Dj´s Gustavo Godoy and Alejandro Velasquez.
Feet loose themselves in wild jumps; they stunningly touch the ground, resounding in their entrails. Beats rally and ride driven by music. Looks are lost in the night lit by many reflectors indiscreetly revealing the landscape. There, dancers intend to face the sun. Meanwhile, the attention is focused on the man beating the rhythm, known as the DJ, who plays the music known as electronic.