Nibepo Aike is a historical place, founded at the beginning of the 20 th century, situated in an unbeatable spot, on the margins of Lake Argentino. It is a full day excursion, covering the roads of the steppe, with a view to visiting the many of the first livestock establishments, namely the traditional "Patagonic Estancias".
There are two time options: 9 AM to 3 PM, with lunch, or 4 PM to 10 PM, with dinner.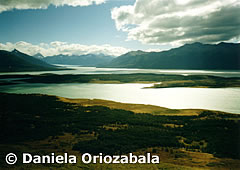 Departure is from El Calafate, along the old road of the estancias, partly not paved, and partly only suitable for 4x4s. It goes trough Huyliche, Anita and Alta Vista Estancias, making several stops at panoramic spots that allow the view of the Perito Moreno Glacier, the Andes and the Lakes Argentino and Roca from unusual perspectives.
Apart from traveling by car, walks are included, in order to allow more closeness to nature. All along, guides are available to passengers to go over the history of the place, the geography, and the autochthonous fauna and flora.
At midday, the group arrives at Nibepo Aike Estancia, where they stop for lunch, which consists of Patagonian lamb. There is a vegetarian organic option as well.
Then, they can take part in shearing and herding, or take a walk up to the shore of the lake, take a horseback ride with a "baqueano" or guide, climb the Cerro Cristal, from where the panoramic view is incredible, and visit an organic farm.
In the afternoon, after tea, the return to El Calafate starts, skirting the south margin of Lake Argentino.
Notice:
The sequence of the activities is the other way round in case the choice is dinner.
Distance form El Calafate: 56 km.