To watch the Iguazu Falls under a full moon's light is a fascinating experience.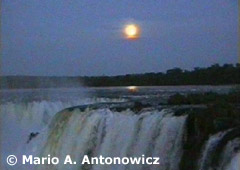 Each month, during five days of the month while there's full moon, you can take a different and beautiful excursion.
It begins at the entrance to the park, and from this point on you will hop on the train which takes you to the Devil's Throat station, where you can walk the footbridges and visit the balconies.
The jewel: a rainbow formed by the moonlight! After this fascinating experience, you will get back on the train to the visitor's centre and from there walk until Restaurante La Selva were a courtesy cocktail is offered for all the passengers.
The total time is approximately 3 hours.