The Church of Cachi is one of the finest examples of colonial architecture calchaquíes valleys.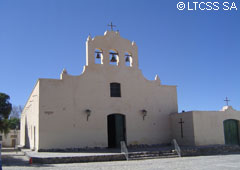 This church was built in mid 18th century as a religious place for the Aramburu family, the former owners of the lands where it is now located.
The walls are plain and the roofs resemble a vault. On one side of the only nave there is  an adobe altar with traditional decorations from those times. The image of Christ on polychrome is the fundamental piece.
The adobe altar was later covered by another one made of wood. On both sides of this altar, other two altars were built. There is a gallery on the right side of the nave and on the left side, there are small naves or rooms with tables and benches made of clay.
In the exterior part of this church, three bells stand out. They are located in the upper part of the façade. It does not have a tower but it does have a wall with bells.
It was declared National Historic Monument in 1945.
March, 19th is the celebration of the patron's saint day.