The Center of Historical Interpretation of El Calafate is a museum designed to reflect the latest trends in historical research. It enables us to take a true trip into the past of the region, from the age of the dinosaurs to the beginnings of colonialization to the development of the present day town.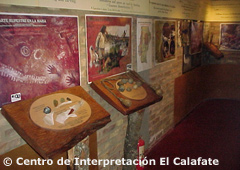 This museum is the work of experts in this area: Professor of History Luis Calleja, the anthropologist Alicia González and the leader of the project, Martín Rivas, a marketing professional. Also, the entire installation was supervised by archeologists who specialize in Patagonia.
This is an educational museum, which includes timelines, giant charts, illustrated walls, as well as historical objects, utensils, and replicas. The texts, written and audio, are in both English and Spanish.
The exhibit covers the end of the ice age, prehistoric art, the tools, weapons, spiritual and material life of the Aonikenk people, the arrival of the Europeans, and the settlement of Patagonia, including that of El Calafate.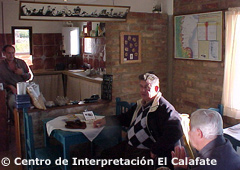 Each visitor can make his or her own way through the museum, letting his particular interests guide him or her. However, the development of the town will be of special interest to visitors, as they can study its beginnings as a stopping point in the wool shipping route used by the large estancias in the region to its impressive growth in the past few years. The birth of its role as a tourist destination began with the construction of a general store and an inn.
After viewing the museum you can drink a tea, enjoy a mate, page through books, magazines and albums in the well-stocked library, which has afriendly and enjoyable environment.
Don't forget to take a few minutes to chat with Martín, who is always ready to answer questions, offer commentary of simply offer an anecdote regarding the history of the town and its inhabitants.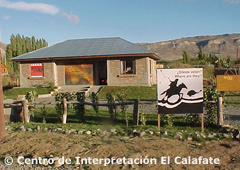 The Center of Historical Interpretation of El Calafate is located on the corner of Avenida Brown and G. Bonmelli. From the center of town you can easily arrive on foot, it is only 4 blocks taking 9 de Julio street starting at the Avenida del Libertador walking towards Laguna Nimes, where you cross a small stream and bear right. The museum is open between 10am until 9pm.
Center of Historical Interpretation of El Calafate (Centro de Interpretación El Calafate)
Av. Brown 1050. Zona de Chacras.
El Calafate
Tel: 54-2902-492799