Perito Moreno Glacier
This is the most spectacular and unforgettable excursion in all Patagonia.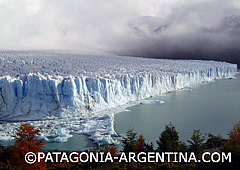 At the beginning of the tour, you will skirt Bay Redonda of Lake Argentino as well as have the chance to see Solitaire Island.
You will go through the Patagonia valley with its natural environment of species such as guanacos, ostriches, foxes, etc.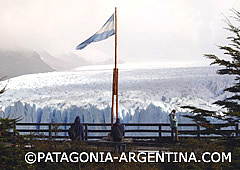 Afterwards you will enjoy many interesting spots: Cerro Comision o De Los Elefantes, river Centinela, Cerro Frias (guanacos site), many Patagonian farmhouses and, across the Mitre river you will get into National Park Los Glaciares.
Then, you will go 35 km along the coast of of Lake Argentino's Rico Branch, among vegetation of incredible trees such as ñires, lengas, notros and cherry trees.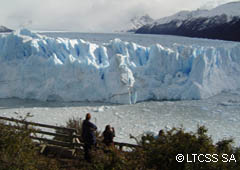 At Curva de Los Suspiros you will get the first panoramic view of Glacier Perito Moreno.
An ice cloak, or glacial cap, covers this Protected Area of 600,000 hectares. Among the 356 glaciers, the Perito Moreno is the most outstanding one, having a front of 5 km long and a height of over 60 meters above the level of the water.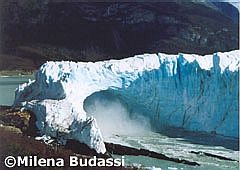 Known worldwide because of its process of fractures, the front of the glacier closes the running of the waters of Brazo Rico when it approaches the coast. This produces a kind of pond where the water goes up 20 meters over the level, creating the filtration that ends up in the fracture.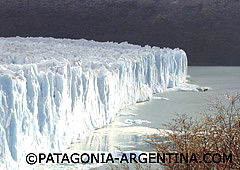 But show is never-ending. You can watch the detachment of ice blocks of different sizes from a short distance, hear the roaring they produce, and then watch them turned into wonderful floating icebergs.
Walking on the glaciers (see Minitrekking) or going along Lake Argentino to see the front of the other Glacier, Upsala, (see Estancia Cristina) is an unique experience.
In 1981 UNESCO declared National Park Los Glaciares a World Heritage Site. It is an unforgettable experience.
All the domestic flights within Argentina (Buenos Aires/Iguazú/Buenos Aires/El Calafate/Ushuaia/Buenos Aires) In and out transfers at every destination. 4 nights lodging in Buenos Aires. 3 nights lodging...
Departure and arrival transfers in each destination. A two night stay in Iguazú and three in El Calafate with breakfast. Excursions: In El Calafate: visit to...
5 days, 4 nights at a hotel with breakfast included. Excursion to the Perito Moreno Glacier with lunchbox. Full day excursion to El Chaltén and free self...
Arrival and departure transfers. Transfers El Calafate/El Chaltén/El Calafate. 3 night stay with breakfast in El Calafate. 2 night stay in El Chaltén with breakfast Minitrekking excursion on the...
Arrival and departure transfers. 4 night stay with breakfast. Full-day excurision to the Torres del Paine National Park, snack included. Excursion to the Perito Moreno Glacier, with Nautical...
2 hotel nights at each destination with breakfast. Transfers in/out airport-hotel-airport at Ushuaia and El Calafate. Excursion: National Park Tierra del Fuego and End of the...