2016 Patagonia Expedition
We are getting ready to live a true Patagonian experience, that will leave indelible memories. The 2016 Patagonia Expedition will take place in February 2016Â and will be done in reduced groups of only 14 members so it is advisable to act quickly.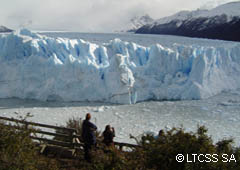 At PATAGONIA-ARGENTINA.COM we are sponsoring this Patagonia Expedition and we want you to spread the word because it is a one of a kind event. It will consist of an overland journey that will take us to famous landmarks and World Heritage Sites such as the Valdes Peninsula, The Glaciers National Park with the famous Perito Moreno, Tierra del Fuego the uttermost End of the World, Torres del Paine National Park and even cross the Magellan Strait. All these places in just one trip that starts in Puerto Madryn and ends in Ushuaia, Tierra del Fuego.
It will be 14 full days touring the most beautiful, southernmost Patagonia aboard a modern Sprinter, according to the following plan:
Day 01 – Reception at Puerto Madryn and transfer to hotel.
Day 02 – Breakfast and full day excursion to Peninsula Valdes to see the Patagonian fauna and the main attractions of this World Heritage Site.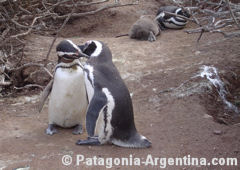 Day 03 – Breakfast and departure from Puerto Madryn to visit Punta Tombo, the largest colony of Magellan penguins. We visit the reservation and the interpretation center and then we walk along the paths among these exemplars. In the afternoon we visit Puerto Camarones and the journey continues up to the city of Comodoro Rivadavia where we check in at the hotel.
Day 04 – After breakfast we leave the Atlantic coast to move to the mountains, for this we traverse the vast Patagonian steppe and parts of valleys as well. We visit the Petrified Forest of Sarmiento and continue our journey up to Los Antiguos where we'll lodge right on the shores of stunning Lake Buenos Aires.
Day 05 – Breakfast and tour of the Cherry Valley. On the road again, to head up to and visit the the Cuevas de las Manos in Pinturas River Canyon. We then continue the journey up to Hipólito Yrigoyen where dinner and accommodation is provided.
Day 06 – Breakfast and excursion to the Lakes Pueyrredón and Posadas. Tour of the Golden River Canyon. Accommodation and dinner included.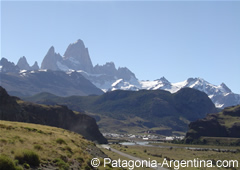 Day 07 – Breakfast and transfer to El Chalten along the famous RN 40. We'll have a typical Patagonian barbecue lunch at the "La Angostura" ranch and then our journey continues in the afternoon reaching El Chalten to spend the night.
Day 08 – Breakfast. Morning and early afternoon are free to enjoy the breathtaking views of Mount Fitz Roy, hike or do some trekking trails. Later in the afternoon we are transferred to our hotel at El Calafate.
Day 09 – Breakfast and excursion to Los Glaciares National Park to visit the impressive viewpoints and walkways of the Perito Moreno Glacier.
Day 10 – Breakfast and free day. Optional navigation is recommended to know some other glaciers.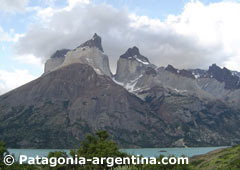 Day 11 – Breakfast and early departure to cross to Chile's Cerro Castillo. With a local guide we visit the Chilean "Torres del Paine" National Park. In the afternoon transfer to Puerto Natales and lodging along the Chilean fjords.
Day 12 – Breakfast and then the journey southbound. Crossing the Strait of Magellan by ferry and tour of the island of Tierra del Fuego. Again in Argentine territory we travel to the Andes through Rio Grande and Tolhuin (by Lake Fagnano) to finally arrive at Ushuaia.
Day 13 – Breakfast and excursion to Tierra del Fuego PN.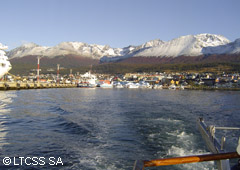 Day 14 – Breakfast, final farewell and transfer to Ushuaia airport.
The trip can also be departing from Ushuaia and doing the reverse route.
It will be a very small group of only 12 participants with a  permanent coordinator and naturalist Guide, plus the local guides at the different places.
The cost to participate is USD 3355 per person in double room occupancy and includes everything described above (also meals where specified). Participants wishing to occupy a Single room pay a supplement of USD 1230) .
We leave from Puerto Madryn on February 16th. 2016
We leave from Ushuaia on February 28th. 2016
Only 14 places available.
4 days, 3 hotel nights with breakfast. Taxes. Transfers in/out airport-hotel-airport at Puerto Madryn. Excursion to Península de Valdés. Excursion Punta Tombo (penguins colony)