The Valley of Las Leñas
The valley is an orchid found in the marsh, a true discovery of this area that will induce you to a relaxing state through its landscapes transporting you away from the modern world. When appearing in front of your eyes, hidden amongst mountains, it unfolds presenting an enormous extension and an unforgettable view immersed in the absolute silence of the mountain range.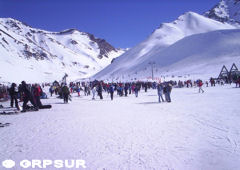 Nevertheless, Las Leñas is not meant to be a place only for the winter: 'Las Leñas a todo Verano' (during the summer) offers the possibility of doing rafting, kayak, windsurf, canoeing, horse rides and excursions in 4x4 vehicles, among many other activities.
Those who prefer to bond with nature will have the possibility to visit the Cave of the Tunduques, White Lagoon, Hidden Lagoon or deep crystal clear rivers and water streams formed by defrosted water from the mountains.