The Cavern of the Witches
As the name indicates, is an extraordinary place where the world seems to display a thousand different figures and forms. Many travellers come straight from San Rafael exclusively to attend this spectacle. This formation contains an interesting history filled with magic: in distant times, two white women were held hostage by a local tribe. The women managed to escape and took refuge in the cavern, leaving during the nights searching for food. When the tribe entered the cavern in search of the women, two great owls flew right out the entrance. The legend tells that the women had become the birds.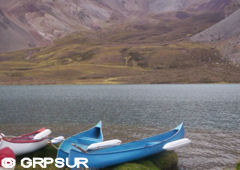 Located 65 kms. from the city, at the top of a windy plain, the entrance to the cavern can be seen. Once the hole in the rock is crossed, the climate changes completely. Inside, there's neither summer nor winter, nor day or night. The temperature stays constant around 9°C and the darkness is absolute. It has more than 3000 meters of galleries, through different rock layers and levels.
Entering towards the earth's core, stalactites and stalagmites will show themselves in diverse forms, dimensions and colours, plaguing the numerous rooms. The Virgin's room, which is the main one, reflects the work of a million years in peculiar and strange figures.