Route 40, pure adventure (part II)
(Part I available here)
The final part
From Alto Río Senguer to Río Mayo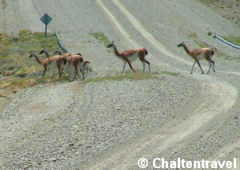 Continuing along this solitary stretch of Route 40 we begin to be able to see guanacos (large mammals similar to llamas) and ñandúes (large birds similar to ostriches) grazing in the distance. There are only 3 km of asphalt on this stretch of road, the other 85 km are gravel. A little before arriving at Río de Mayo the plateau turns into stunning cliffs about 100 meters in height, allowing for beautiful views of the river.
Río Mayo is a cattle ranching center with about 2,500 inhabitants. It also offers a complete array of services as it lies at a road junction.
During November Río Mayo hosts the national Sheep-Sheering contest, which is the most competitive in Patagonia. It has strict rules that not only take into account the duration and quality of the work (whether or not the fleece is broken) but also the treatment of the animal.
This is also one of the towns in the Province of Chabut that has a pilot program of harnessing the powers of the winds to generate energy. You can visit the windmill park if you wish. Also, from Río Mayo you can reach Chile via Paso Huemules, without crossing through mountains.
From Río Mayo to Perito Moreno
Within a few Kilometers of leaving Río Mayo we enter the province of Santa Cruz. The road is well marked, but the 125 km stretch is unpaved for 112 km and lacks services.
The trip continues to pass through the steppes. This region was harshly punished by the rain of volcanic ash from the Hudson Volcano in 1991.
Perito Moreno has approximately 3000 inhabitants. The Indians called this place Pari Aike, which is the name of a plant native to the area. The first European to know this place was Munsters, one of the prolific explorers that traveled throughout Patagonia. In 1981 it was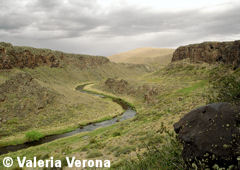 declared the archeological capital of Santa Cruz, because in its surroundings lie the famous Cueva de las Manos (Cave of the Hands) with pre-historical paintings. Due to its microclimate, some small farms cultivate strawberries.
This is a good place to use as a base to visit the beautiful locality of Los Antiguos, Lake Buenos Aires and the Cueva de los Manos, in the Cañon of the Pinturas River. It is also a good place to rest before continuing on the road towards the National Park Perito Moreno.
To Los Antiguos and Lake Buenos Aires
In order to go to Los Antiguos, one must travel 60km on asphalt towards the mountain range, along the south shore of the beautiful Lake Buenos Aires.
After traveling for about 10km from Perito Moreno you can already begin to see the lake, second only to Lake Titicaca in length in all of Latin America, extending far into Chile. Its intense blue waters are evidence of its profound depth. On the Argentine side the beaches are composed of smooth rocks and surrounded by steppes, while on the Chilean side the sea-like lake lies between dramatic mountain peaks. From the Chilean side the lake empties into the Pacific vía the Baker River, the largest river in Chile. There are well-equipped camp grounds, as well as tea-houses and places to rent horses at the lake.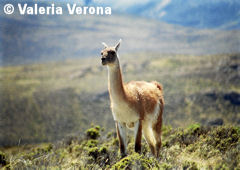 I Keu Konk, "the place of the ancients," is the original name of Los Antiguos. Extraordinarily, the new Spanish name preserves the original title while paying homage to the spirit of this place, sacred to the ancient Tehuelches. The microclimate is excellent and allows for the cultivation of cherries, strawberries, raspberries and other fruits. In January the provincial festival of the Cherry is celebrated.
There is a lot of tourist traffic, in part due to the joining of Provincial Route 43 with National Route 3, which runs along nearly all of the Atlantic coast of Patagonia.
To Cañadón del Río Pinturas and Cueva de las Manos
In order to get to the Cueva de las Manos you must travel 160 km south. The road is gravel but well-maintained. If you plan to visit either El Chaltén or El Calafate, it is advisable to leave this excursion for the end. It is 120 km by Route 40 and 45 more via a detour.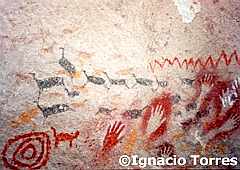 30 km from Perito Moreno you will encounter the Estancia Telken which is well set up for visitors. You can visit the Cueva de las Manos (Cave of the Hands) between December and February. There is a park ranger who lives there, a center of interpretations and a place to picnic. You can spend the night if you wish at the Hotel Bajo Caracoles, 7 km more towards the South.
From Perito Moreno (via Bajo Caracoles) to Gobernador Gregores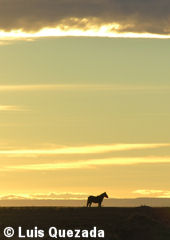 It is 128km of gravel road in good condition from Perito Moreno to Bajo Caracoles. Bajo Caracoles is not interesting from a tourist stand-point, but it must be mentioned as a resting point and as a place to purchase provisions as it is the main tourist center in the region. There is a hotel, market and a gas station.
The next locality, Gobernador Gregores, is not located on Route 40 but is the largest urban center in the region. It is exactly in the middle of Santa Cruz province. There are approximately 2200 habitants and contrasting with the surrounding desert, it is an agricultural zone. There is lodging and services.
From Gobernador Gregores we can enter the National Park Perito Moreno to visit its lakes and Mount San Lorenzo, the tallest peak in the Southern Andes, a site known to mountain-climbers from over the world.
From Gobernador Gregores (via Tres Lagos - El Chaltén) to El Calafate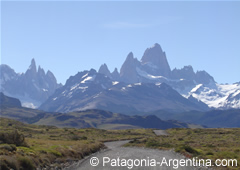 Route 40 continues southward, passing Tres Lagos (Three Lakes), 200 km from Gregores. A little after Tres Lagos we meet up with Provincial Route 23 which can take us to El Chaltén, National Capital of Trekking. This route borders Lake Viedma up until the side of Monte Fitz Roy and Cerro Torre. This is a really beautiful area, still virgin and wild. It is worth it to take a detour to see it, and also you can go on a short trek. Later the route continues onto the spectacular El Calafate and the Glaciers National Park.
From Gobernador Gregores it is 360km of gravel road to El Calafate, without taking into account the detour to El Chaltén.
The Conditions of the Road and Recommendations
In general, you will find Route 40 and the other provincial roads that we mentioned to be well maintained. In the season between December and March it is travelable in all of its totality without major inconveniences by all types of vehicles.
In the gravel parts the road is sufficiently wide and well-maintained. Passing River Mayo drive carefully due to the potholes.
Always, when driving on gravel, we recommend that you do not exceed a maximum velocity of 70km/hr. Take this into account when you calculate travel times, that they will take much longer to travel than what you think.
To learn more about how to drive safely on this type of road, you can consult our information about driving in Patagonia where you will find useful advice.
There is gasoline (petrol) available in all of the towns we mentioned, but always fill up whenever you are able. You never know if the next station may be closed or not have gas!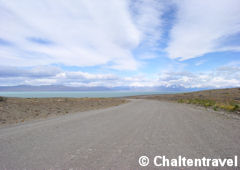 You can make this whole trip without stopping, but it is highly recommended to rest for the night. If you leave from Bariloche, for example, you can spend your first night in Perito Moreno and the second night in the Estancia La Angostura, 55km from Gobernador Gregores, or in Gregores proper in order to easily continue on to El Calafate.
The weather often changes suddenly in this region. Remember that this is a desert climate that can be very hot during the day and very cold at night. Bring clothing suitable for both extremes.
And remember, some town centers are better equipped than others and the smaller ones may not have everything that you need.
Approximate distances between places: (Km.)
Bariloche - El Bolsón: 130
Esquel - El Bolsón: 181
Esquel - El Calafate: 1132
Río Mayo - Perito Moreno: 130
Perito Moreno - Los Antiguos: 66
Los Antiguos - Bajo caracoles: 128
Perito Moreno - El Calafate: 630
Calafate - El Chaltén: 220
Enjoy!