El Calafate's Airport
El Calafate is the gateway town to the Glaciers National Park. It did not have its own airport until December 2000, reason for which it was necessary to fly to Rio Gallegos first and then combine with a bus that connected both cities, via Route 5. But all this has changed.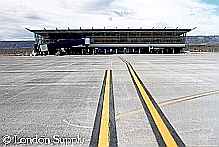 This new airport, named "El Calafate" is equipped with all the modern facilities and security equipment such as those found in international airports. The track is 2550 meters long, allowing big planes to land normally.
Since 1997 there was a small, "third category" airport at El Calafate, which only permitted small planes to operate. It was used in very few occasions for certain domestic flights, but none of them belonged to commercial/regular ones. It will not be available anymore.
According to Santa Cruz Province's Tourist authorities, "with the new airport the tourist villa (El Calafate) will become the center of distribution for the Southern Andes area. It will enable seamless connection with nearby spots, like El Chaltén (National Capital of Trekking and gateway to Mount Fitz Roy) and will allow visitors to make the most of their stay, saving them many hours until now wasted in bus transfers".
Besides being able to spend more days at the place, tourists will be able to arrive anytime during the year, since the airport will be operative all year long.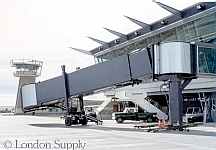 The firm London Supply S.A. was the winner in the bid for administering, maintaining and commercializing the airport's services for twenty-five years.
It is a national company that already has under its orbit the airports of Ushuaia (Tierra del Fuego) and Punta del Este (Uruguay). For this new project, they have invested U$S 8.2 Million.
The building's characteristics are similar to the ones found at the Ushuaia airport; a design based in stone and aluminum, suitable for the windy or "strict" weather conditions that characterize the area sometimes. As for now, it is ready for handling 280 passengers during peak hours, and 50,000 yearly. But it is ready for further improvements and enhancements.
An amazing increase in the tourist influx is expected. With this in mind, a total revamp of the villa is taking place. Local business owners are heavily investing in the construction of hotels and cottages, the modernization of shops and enhancement of the offered services. And the government has already started the works for paving nearby routes, roads and accesses. Along with the new airport, a sense of constant development has been installed at El Calafate. And its inhabitants are watching its growth, guarded by the Perito Moreno Glacier (UNESCO World Heritage Site).
Thanks to Marcelo Musante from London Supply S.A.