Plottier, Arroyito, El Chocón and Dinosaurs
Taking Route 22 towards the south you will find the village of Plottier, an area of small farms dedicated to fruit culture, specially apples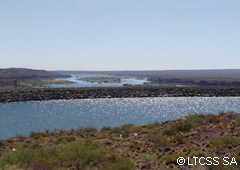 and pears. Here you can visit packing plants and establishments dedicated to juice, cider and wine production. There are also other important industries involved in aviculture, crystals, confectionery, chocolates and edible mushrooms.
This city is characterized by the conservation of its old buildings. You will be able to appreciate a little bit of history in buildings that today house the Casa de la Cultura, the city´s museum, Municipal Library and Dr. Plottier´s house.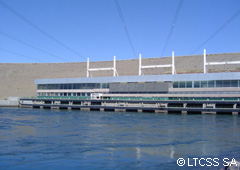 If you are looking for nature and relaxation, two recreation complexes on the shores of the Limay River offer excellent services for an excellent resting day.
Continuing on Route 22, you will find the intersection with Route 237 to later reach 25 km. ahead, the Lower Valley of the Limay River. This is Villa El Chocón. This dam is a monumental work of engineering and one of the most important in the country. The dimensions are: 92 m. in height, 400 m.wide and 2,200 m in length. Itoccupies an area of 816 km2.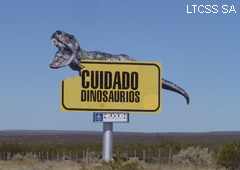 You can enjoy this particular site practicing water sports, fishing or simply resting.
This area is very rich in fossils. Many of the visible layers surpass the 100 million years. The paleontological findings make this region one of the most valued sites in South America for scientists and curious people.

The most important dinosaur found is the Gigantosaurus,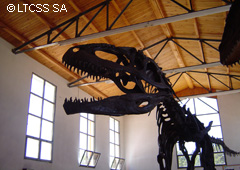 found in July, 1993. This was the largest carnivorous dinosaur found in the world and its complete skeleton can be seen at the Municipal Museum where Rubén Carolini, who found it, will be your guide.
No doubt, Patagonia is, among other things, living prehistory.