Excursions: Valcheta and Meseta de Somuncura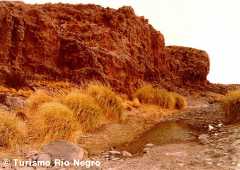 The adventure of visiting the Somuncura Plateau implies entering into our archeological-technological past since you will find indigenous cemeteries, pictography and other expressions of aborigine culture.
The attraction of the area can be better appreciated with the help of "baqueanos" who provide this service from the village of Valcheta, where lodging facilities are also available.
Upon arrival, go to the Municipality of Valcheta (Tel. 02934-493163) or to the Museum building, where you will get information on this guided visit to the Somuncura Plateau.
Rides on horseback and trekking are a good option for this unforgettable photographic safari.