Excursions from Viedma and Patagones
The Coastal Road
The road from La Lobería to the vicinity of Puerto San Antonio is a dirt road. There are 150 km. of wild and almost virgin landscape, where the road runs between the Patagonian desert and the sea.
Cliffs and dunes are the typical scenery on this trip to adventure.
The color of the sea along the route, varies from green to deep blue.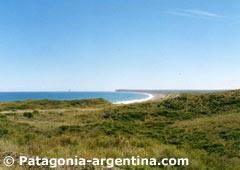 Bahía Rosas, the first of the beaches, is a paradise for fishermen, deep waters, clean sand, dunes. Between September and November the sighting of whales is frequent, although they cannot be seen at a close distance because there is no boat service or anything similar. There is nothing but pure nature...
---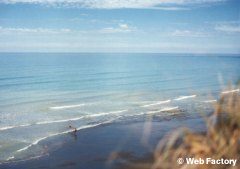 Bajada Echandi is further ahead. You have to descend a rudimentary ladder built on the cliffs. Lonely beaches will give you the sensation of being one of the discoverers of this place.
---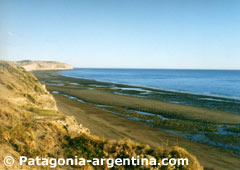 Bahía Creek, a beach between dunes and cliffs, is an incredible place for bathing and why not, spending a few days. But, you have to take your tent along. There is a very small village with a few houses and to reach this place is like finding an oasis after traveling almost 90 km. without tall vegetation.

In the dunes, you can still find rests of an indian "pedrero", a place where old settlers made their arrows and utensils with stones found in the area.
5 km. away, you will find "La Aguada", a rural establishment of approximately 8,500 hectares, where you can take long walks and horseback rides, in addition to big game (Chancho Jabalí) (wild pig) and small game (vizcacha ( a close relative of the chinchilla), bustards, etc.).
---
Following the same road we find Caleta de Los Loros, also known as Punta Mejillón due to the abundance of mejillones (mussels).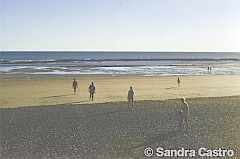 The beach with fine sand and crystal waters will invite you to stay. There is a general store and there are also some weekend houses.
You have to consider that all these places lack infrastructure, water and shade, so you will have to be ready for wild camping.
You can camp anywhere, although avoid camping on the beaches with cliffs, because collapses or landslides are frequent.