Iron Mines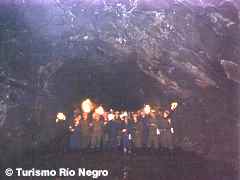 Of the 96 km of galleries and more than 500 meters in depth, almost 3 km. can be traveled, with the appropriate equipment, boots and helmet, every day of the year between 9am and 6 pm.
Men and women of all ages are accepted. The only illumination is from the helmets being worn by the visitors, so then imagine the scenery, just being there!
A more audacious option is the descent with ropes to the area where iron ore was extracted, in addition to touring on a raft the flooded areas.
A very uncommon experience.