La Rinconada and other Beaches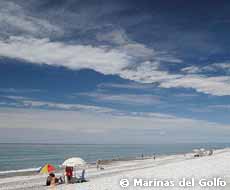 Going to San Antonio Oeste you will find a variety of incredible beaches. The first one is La Rinconada, special for fishing.
All this area is protected by cliffs and the water reaches a temperature of almost 25º.C.
Always be aware of the high tide because your walk could be dangerous . Check timings with the Tourist Office.