Bahía Laura (Laura's Bay)
This bay is located to the south of Puerto Deseado. It lays along the area between the Campana Lighthouse of Punta Mercedes and the l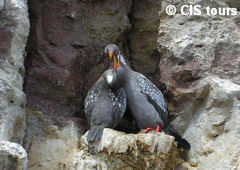 ighthouse of Cabo Guardián. Here you can appreciate a wide variety of fauna. Black-neck cormorants, kelp gulls, steamer ducks, crested ducks and grey plovers. In the area of Cabo Guardián there is a colony of penguins and cormorants.
In Isla Chica you can find another colony of penguins and imperial cormorants.
As if this were not enough, you may sometimes catch sight of Commerson's dolphins in the bay.