Villa Traful
This is a half-day excursion that shows you one of the least exploited towns in this region, tourism wise. Ideal for a half-day outing from Bariloche.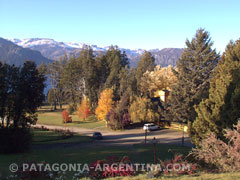 Villa Traful is located in a very beautiful valley, by a lake of the same name. All the attractions of the area converge here, with a plus given by the preservation of the environment at its purest.
On the way back to Bariloche you will visit Valle Encantado (enchanted valley), featuring weird rock formations and caves where man used to live in ancient times.
Note:
The time of departure is 1.30 pm.
This excursion is available in October and April.
4 days, 3 hotel nights with breakfast. Taxes. Transfers in/out airport-hotel-airport at Puerto Madryn. Excursion to Península de Valdés. Excursion Punta Tombo (penguins colony)
Transfers in/out. 4 days, 3 nights with breakfast. Excursion Perito Moreno Glacier. Nautical Safari. Excursion Estancia Cristina Classic (summer) or Rivers of Ice (winter). Bilingual (Spanish-English) guides. Taxes.