Old Patagonian Express 'La Trochita'
 The Old Patagonian Express is one of the most famous historic trains in the world. It adds to the particularity of its minimum gauge, the unique landscape that it traverses.
Patagonia is always seducing, with its large extensions, its magical scenery of plateaus, sea, mountains, lakes and rivers. But also with its affectionate people and with a few non-natural attractions, as is the case of the Old Patagonian Express, better known as "La Trochita". This 1922 picturesque steam train receives this name because of its narrow gauge of only 75 cm.
Riding on this train is like neglecting the passing of time and losing oneself in a children's tale of the early twentieth century. The small proportions of this means of transportation make us think we are traveling on board of a toy.
The Old Patagonian Express is one of the most famous trains in the world. It's a unique historical and cultural heritage, drawing railroad fans from all parts of the globe. When it was inaugurated, it used to operate as a social train joining Esquel (Chubut) and Ingeniero Jacobacci (Río Negro) along its 402 km (250 mi) rails, until the engine stopped working in 1993. In 2006, La Trochita was brought back to life for tourism purposes.
It didn't seem real. The old residents of El Maitén couldn't believe it when they heard the whistle of the old Baldwin locomotive, kept as new thanks to the few employees who had stayed in charge of the Railroad inheritance all this time. They proudly say: "We never let it die. The workshops kept working, the railways were kept in conditions, we always knew that the little train was going to be reborn…"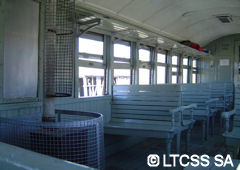 The wagons that follow are made of wood, each one with its own wood-burning salamander to face the freezing cold of the plateau, and little windows through which the eternal Patagonic landscape stirs away.
A magical environment, that makes the traveler think that he is on a time tunnel.
This is for sure the most famous narrow gauge train in the world, together with the Trans Siberian and the Orient Express.
La Trochita passengers are special people too. A proof of this is, for example, that a few years ago a group of twenty English tourists paid a considerable amount of money to rent the train for a weekend and do the tour slowly, stopping whenever they needed to take pictures. These tourists are as special as the train itself: they know the history of each machine, which the original wagons are and the stories of each railway line. That is why the emotion they feel when they are in front of the old locomotives, born at the beginnings of the past century, is unequaled.
At the present there are two routes: Esquel – Nahuel Pan and El Maitén – Desvío Bruno Thomae.
Esquel – Nahuel Pan route
Nahuel Pan, 15 km. away from Esquel, is an ancient Mapuche settlement and was the first station of the long train journey. In this touristic route, the most breathtaking landscapes of foothills and Patagonian plateau are crossed. The train travels at an average of 45 km. per hour to this village where some of the inhabitants are direct descendants of the Mapuche aborigines. Annually, in March, a religious Mapuche ceremony takes place in Camaruco, at the foot of the Cerro Nahuel Pan.
The ride lasts 3 and a half hours, tour guides go with passengers in each wagon and it also includes bar service throughout the tour. In Nahuel Pan you can visit the Casa de las Artesanas where there is an exhibition and sale of regional handicrafts and you can also go horseback riding (not included in the tour price). On the way back to Esquel there is a photo stop at halfway.
Inquiries and bookings:
Esquel Rail Station: +54-2945-451403
Mail:  latrochitaesquel@hotmail.com
El Maitén – Bruno Thomae route
El Maitén is a small town located about 130 km. from Esquel, on the way to Ingeniero Jacobacci, the former point of arrival of Old Patagonian Express.
For the inhabitants of El Maitén, La Trochita is special and unique because the workshops that keep this relic alive are there. The whole town is a true railway museum.
The route is a little longer than that from Esquel, and has the peculiarity that the photo stop is made when the train passes a bridge over the river Chubut.
The total distance is 2:45 PM. and also it has done with guides on board.
Inquiries and bookings:
El Maitén Rail Station: +54-2945- 495190
Mail: ferroelmaiten@gmail.com
For more information see: Trains in Patagonia.
4 days, 3 hotel nights with breakfast. Taxes. Transfers in/out airport-hotel-airport at Puerto Madryn. Excursion to Península de Valdés. Excursion Punta Tombo (penguins colony)
Transfers in/out. 4 days, 3 nights with breakfast. Excursion Perito Moreno Glacier. Nautical Safari. Excursion Estancia Cristina Classic (summer) or Rivers of Ice (winter). Bilingual (Spanish-English) guides. Taxes.
3 hotel nights at each destination with breakfast. Taxes. Transfers in/out at the 3 destinations. Excursion to Península de Valdés. Whale Watching navigation (July to Dec) or...
In and out transfers at every destination. 3 nights lodging in Buenos Aires. 3 nights lodging in El Calafate. 3 nights lodging in Ushuaia. 3 nights lodging in Iguazú....
4 hotel nights with breakfast. Transfers in/out airport-hotel-airport at Bariloche. Excursion Small Circuit. Excursion to Victoria Island and Arrayanes' Wood. Excursion to S.M. Andes via the Seven Lakes.
2 hotel nights at each destination with breakfast. Transfers in/out airport-hotel-airport at Ushuaia and El Calafate. Excursion: National Park Tierra del Fuego and End of the...