Ushuaia city tour
Ushuaia is a picturesque city, facing the Beagle and with the Martial Mounts as a backdrop. This virtual tour tells you what is necessary to know on a first visit.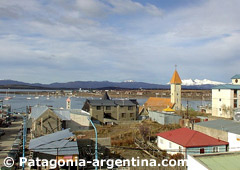 The city tour can begin along the Coastal Avenue (Maipu), which borders the Beagle Channel. Along this avenue you will get to the Port of Ushuaia and the Nautical Club.
At the end there is a catwalk that you must take in order to get to the peninsula where magnificent views of the city are guaranteed. This area shelters Bahía Encerrada, which gets frozen during winter and becomes a Skating rink.
Later, on your way back to downtown along Malvinas Argentinas street, you will see the historical Beban House and the reconstruction of the old town, a relic that recreates Ushuaia during the days of the pioneers.
On the opposite extreme of the city, if going along the main street (San Martin) up to its crossing with Yaganes St. you will reach the legendary Jail of the end of the world, now transformed into a museum (Museo del Presidio). A must visit, where there are even wax statues of the most famous criminals that were sent to that place.
4 days, 3 hotel nights with breakfast. Taxes. Transfers in/out airport-hotel-airport at Puerto Madryn. Excursion to Península de Valdés. Excursion Punta Tombo (penguins colony)
Transfers in/out. 4 days, 3 nights with breakfast. Excursion Perito Moreno Glacier. Nautical Safari. Excursion Estancia Cristina Classic (summer) or Rivers of Ice (winter). Bilingual (Spanish-English) guides. Taxes.