Tronador Hill
This all day excursion will take you through one of the most wonderful areas of Nahuel Huapi National Park up to the Tronador, its highest mountain.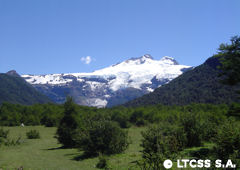 Leaving by Onelli street leading to National Route 258. Driving along Lakes Gutiérrez and Mascardi you take the dirt road and after crossing the bridge over Río Manso you reach the base of Tronador-Pampa Linda where you stop for lunch.
At the end of the road, after a forest of coihues and lengas you will see the Black Glacier. The itinerary ends further ahead at the foot of the Tronador, with its characteristic peaks Argentino (3410 m.), Internacional (3554 m.) and Chileno (3470 m.)
The Cascada de Los Alerces (waterfall) is a variation of this excursion.
Before crossing the bridge over Río Manso, you go around Lake Los Moscos and Río Manso until you reach Lake Hess, the road ends after crossing the Roca River and you have to walk some 300 m. to get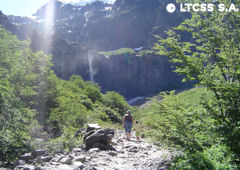 to a lookout point andadmire the imposing Cascada de Los Alerces.
You will have to remember that the road, after Lake Mascardi is a dirt road and is one way for ascent until 2 p.m. and after that time is only one way for descent.
Ask for information about the condition of this road in the city, specially in the winter season, since it is frequently closed due to weather conditions.
TRONADOR VIA LAKE MASCARDI
Duration: all day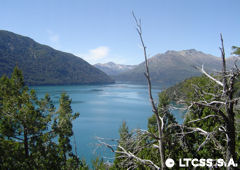 Leaving from Bariloche or Puerto Mascardi. The boat navigates to the foot of Cerro Cresta de Gallo, Bonete and Punta Negra to arrive at Puerto Tronador. From there
by bus, you continue until Pampa Linda and afterwards to the Black Glacier. You return by bus and boat. If you use your own car get information on the times of ascent and descent.
4 days, 3 hotel nights with breakfast. Taxes. Transfers in/out airport-hotel-airport at Puerto Madryn. Excursion to Península de Valdés. Excursion Punta Tombo (penguins colony)
Transfers in/out. 4 days, 3 nights with breakfast. Excursion Perito Moreno Glacier. Nautical Safari. Excursion Estancia Cristina Classic (summer) or Rivers of Ice (winter). Bilingual (Spanish-English) guides. Taxes.
4 hotel nights with breakfast. Transfers in/out airport-hotel-airport at Bariloche. Excursion Small Circuit. Excursion to Victoria Island and Arrayanes' Wood. Excursion to S.M. Andes via the Seven Lakes.