A virtual tour of Route 40
Route 40 runs 5000 km. along the Andes. It traverses 11 provinces, crosses 236 bridges, borders 13 major lakes, crosses 18 major rivers and provides access to 5 World Heritage Sites and 20 National Parks and Monuments.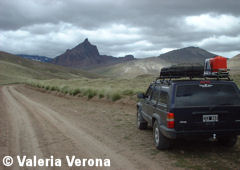 All this and more is contained in this video, published by National Roads of Argentina. The story, in the voice of the renowned Argentine host and journalist Juan Alberto Badia, is in Spanish, but that is not a bar to enjoy the beautiful images.
And to start planning your trip make sure you read our full report "Route 40, pure adventure" with a proposal of possible stops and recommendations constantly updated.
Without doubt, Route 40 is one of the gems of our country. Enjoy it!
4 days, 3 hotel nights with breakfast. Taxes. Transfers in/out airport-hotel-airport at Puerto Madryn. Excursion to Península de Valdés. Excursion Punta Tombo (penguins colony)
Transfers in/out. 4 days, 3 nights with breakfast. Excursion Perito Moreno Glacier. Nautical Safari. Excursion Estancia Cristina Classic (summer) or Rivers of Ice (winter). Bilingual (Spanish-English) guides. Taxes.
4 hotel nights with breakfast. Transfers in/out airport-hotel-airport at Bariloche. Excursion Small Circuit. Excursion to Victoria Island and Arrayanes' Wood. Excursion to S.M. Andes via the Seven Lakes.