How to get to Ushuaia?
Tierra del Fuego is an island, so most travelers arrive by plane. You can also arrive by land or sea.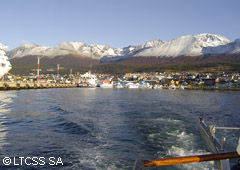 Travel by plane:
There are direct flights from Buenos Aires to Ushuaia. Flight time is about 3 ½ hours.The frequency varies according to the seasons, although there are always at least onedaily flight.
There are also regular flights that connect with El Calafate (gateway to the Glaciers National Park)
Ushuaia has an international airport, close to downtown. There is no shuttle service but the taxi ride is not expensive.
Travel by car:
If you want to get here by land you must take a ferry and cross through Chilean territory.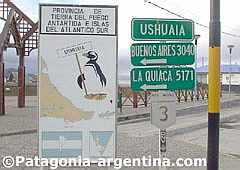 There are two crossings:
By Primera Angostura (Punta Delgada-Bahia Azul). The ferry takes 30 minutes and runs every hour from 8.30 am to 10,15 PM. This is the most used crossing every year. This schedule is for the summer season only. It does not operate under bad weather conditions.
By Punta Arenas-Puerto Porvenir. It takes 2 hours and a half. The schedule: Tuesdays to Saturday 9 am, and Sundays 9.30 Am. It returns every Tuesday, Wednesday, Thursday and Saturday at 2 pm. Fridays at 3.30 pm and Sundays at 5 pm. Once again, this schedule is for the summer season only.
It is advisable to have reservations made for this second crossing. Reservation phone number in Punta Arenas: 00-56-61-728100.
Both crossings are operated by the company Transbordadora Broom.
Travel by bus:
There is no way to get directly by land from Buenos Aires. You must go first to Río Gallegos, there are many companies that offer this service, the travel lasts about 36 hours (there are 2570 km. between both cities).
Once there you have to take another bus in order to make the trip between Río Gallegos and Ushuaia, which includes the crossing of the Strait of Magellan. The company that makes this trip is called Tecni Austral. You must take notice that you will pass through Chilean territory so you will have to go through customs. The trip lasts between 8 and 10 hrs.
There are not direct services between El Calafate and Ushuaia either. There are two options:
a) Via Río Gallegos: There are several daily frequencies between Río Gallegos and El Calafate, there are 300 km. of paved road and the trip lasts about 3 hrs.
b) Via Chile: If you choose this option the trip will be: Puerto Natales-Punta Arenas-Ushuaia, and you must take three different buses. The first part of the trip lasts 5 hrs., there is not a long distance, but you must consider the time needed to go through customs. For the second part of this trip there are buses departing every hour since 8 am to 8 pm. Finally, the trip between Punta Arenas and Ushuaia, which includes the crossing of the Strait of Magellan, is made only by the company Tecni Austral and it takes about 10 hrs.
Distances in kilometers from Ushuaia:
Río Gallegos: 594 (1) 733 (2) *
Punta Arenas: 831 (1) 1010 (2) *
El Calafate: 914 (1) 1053 (2) *
*(1) Cruce Primera Angostura *(2) Cruce Puerto Porvenir
Río Grande: 230
Buenos Aires: 3194
Puerto Madryn: 1799
Neuquén: 2676
Córdoba: 3199
Bariloche: 2178
All the domestic flights within Argentina (Buenos Aires/Iguazú/Buenos Aires/El Calafate/Ushuaia/Buenos Aires) In and out transfers at every destination. 4 nights lodging in Buenos Aires. 3 nights lodging...
3 nights, 4 days cruise in cabin with private bathroom. Daily excursions to land in Zodiac boats. Meals (breakfast, lunch and dinner) with beverages. Lecture about...
7 nights in hotel with breakfast. Navigation throuh the Beagle Channel. Excursion National Park Tierra del Fuego 3 days of ski, transfers to the ski resort plus an...
2 hotel nights at each destination with breakfast. Transfers in/out airport-hotel-airport at Ushuaia and El Calafate. Excursion: National Park Tierra del Fuego and End of the...
3 hotel nights at each destination with breakfast. Taxes. Transfers in/out at the 3 destinations. Excursion to Península de Valdés. Excursion to Glaciers National Park and Nautical...
4 days, 3 hotel nights with breakfast. Taxes. Transfers in/out. Excursions: Tierra del Fuego National Park. End of the world Train. Beagle Channel navigation.