Excursions in Ushuaia
Enjoy Ushuaia all year long! Summer is ideal for adventure tourism, winter is the time to skiing, and any season is good moment to trek the woods and lakes!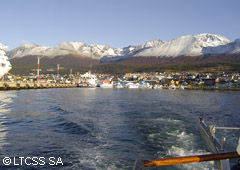 Ushuaia invites you to do trekking in Tierra del Fuego National Park, go to the lakes inner the island on a 4×4 vehicle, leave for Cape Horn and Antarctica, or navigate the endless Fuegian channels.
Ushuaia, the end of the world and the beginning of everything, is waiting for you. Come!
4 days, 3 hotel nights with breakfast. Taxes. Transfers in/out airport-hotel-airport at Puerto Madryn. Excursion to Península de Valdés. Excursion Punta Tombo (penguins colony)
Transfers in/out. 4 days, 3 nights with breakfast. Excursion Perito Moreno Glacier. Nautical Safari. Excursion Estancia Cristina Classic (summer) or Rivers of Ice (winter). Bilingual (Spanish-English) guides. Taxes.