Anecdotes from Villa La Angostura
Travelogues stimulate and help us in case of being in similar situations. What should we do when arriving to a new place and are so anxious that we do not know where to begin? Marina Ollari describes her trip and invites us to travel and enjoy simultaneously.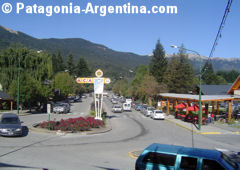 It was a beautiful summer afternoon when we arrived in Villa La Angostura, so we decided to make the most of it and visit the surroundings. This friendly and cozy place with a provincial ambience and surrounded by mountains, rivers and woods welcomed us with a variety of options—what to do first?
The 12 km (7.5 mi) trekking through the Arrayán forest and the catamaran trip leaving from the nearby pier seemed two unbeatable choices, but they would take a full day and we only had half a day until sunset. The same went for the tour to Cerro Bayo, one of the most attractive sky centers.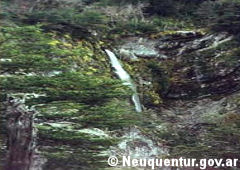 Eager for adventure, we decided on a self-guided tour to Belvedere Viewpoint and Inacayal Cascade. We asked for some directions at the tourist office, we prepared a small backpack with some food and drinks to spend the day out on the hill and we set out.
We had been told the path was not difficult: we had to take the Seven Lakes route (route 231), walk 800 m (2,500 ft) and turn right towards Plaza de las Colectividades, then turn right again on Cacique Antriao and walk another kilometer (0.6 mi) to find the steep path that leads to both attractions. From there, we simply had to follow the signs. And so we did.
We found a rustic sign and we realized we were going through Mapuche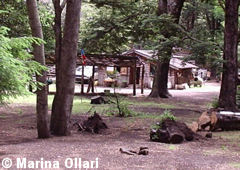 territory. There, the Paichil Antriau community informed that access was open from 7:30 AM to 11 PM to meet the community members and learn about the struggle for their land. Further on, the ascending path forked into two: to the right, Inacayal Cascade, and to the left, Belvedere Viewpoint. We decided to start by the path that had been described as the most exhausting one, and leave the viewpoint for the end, like a well deserved prize for the effort we were about to make.
At one thousand meters (3,280 ft) above sea level, the path to the cascade requires to be in good shape not only for the ascents and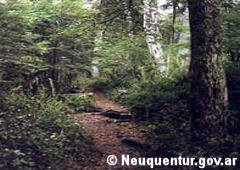 descents over rocks and roots, but also because it's very narrow and can be muddy in summer or snowy in winter. As we got further into the forest, the vegetation grew lusher and lusher and we started to see water falling from some distant points. We bumped into some tourists that encouraged us, but only a few finish the trek up to the highest point at the cascade's origin -a cool beautiful spot where you can admire the waterfall in all i
ts splendor.
Now it was the turn of Belvedere Viewpoint. We climbed the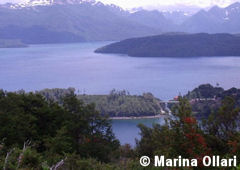 slope up to the top with our last strength. The effort was worth it! Once at the viewpoint, our field of vision widened and the sun reflected in the waters of Lake Correntoso, the Correntoso River and Lake Nahuel Huapi. The landscape, framed by a colorful mountain range, was the perfect setting for our break, which unfortunately could not take long because the sunset was near.
There we discovered that Villa La Angostura had still a lot to offer. Tomorrow would be another day.
By Marina Ollari
4 days, 3 hotel nights with breakfast. Taxes. Transfers in/out airport-hotel-airport at Puerto Madryn. Excursion to Península de Valdés. Excursion Punta Tombo (penguins colony)
Transfers in/out. 4 days, 3 nights with breakfast. Excursion Perito Moreno Glacier. Nautical Safari. Excursion Estancia Cristina Classic (summer) or Rivers of Ice (winter). Bilingual (Spanish-English) guides. Taxes.
4 hotel nights with breakfast. Transfers in/out airport-hotel-airport at Bariloche. Excursion Small Circuit. Excursion to Victoria Island and Arrayanes' Wood. Excursion to S.M. Andes via the Seven Lakes.